Little bits of sewing happened this past week.
Using a few orphan blocks – ones I received years ago in a block exchange – I made 2 placemats  as gifts to my Father who is moving into an assisted living apartment.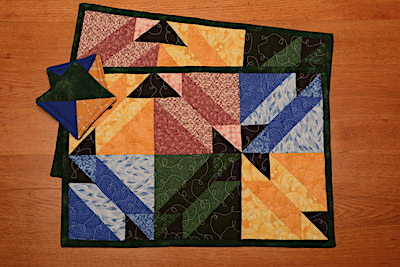 I dug through my precuts to find similar shades of fabric to make the 2 coasters.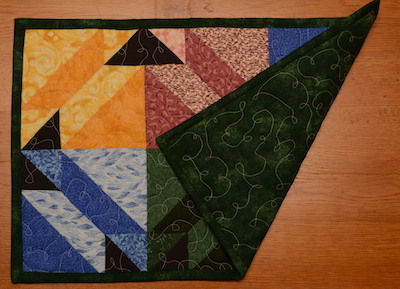 For this set, I just did a simple meandering with little loops.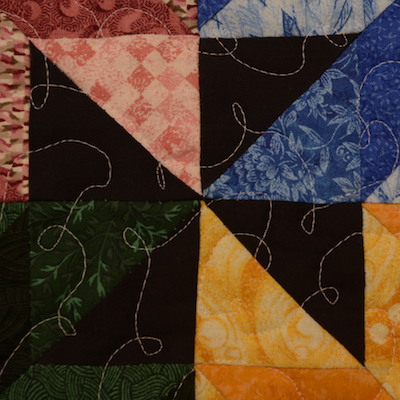 Close up of quilting.
For a second set of placemats I used  2 pieced hexies. A friend had cut & sewn together the wedges and then give them with extra fabric to me. Basically, I'm just finishing something she started. I sandwiched her pieced hexies and did a simple meander for the quilting.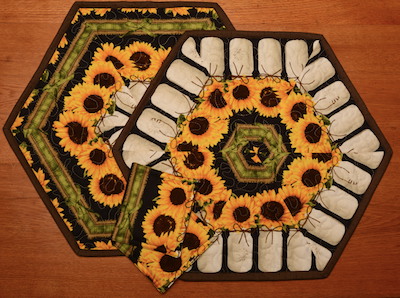 For the coasters I cut squares from extra wedges she gave me.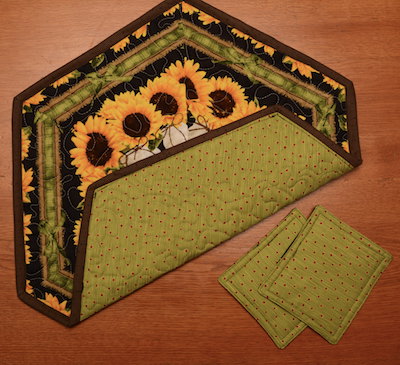 The back and batting also came from my friend. So like I said, I just finished something she started. I found a brown from my stash that I thought went nicely for the binding.
I'm keeping up with making the daily hexies for the Temperature Quilt. I even started sewing the days together. I have the January hexies stitched together and started adding February. My previous English Paper Pieced projects have all been small, this Temperature Quilt is going to be large in comparison! Since working on this scale of EPP is a new experience for me, I'm OK with how slowly this project is going.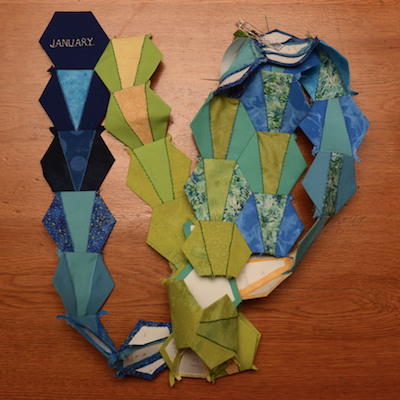 A tangle of pieced hexies!
How did I do on the last To-Do List:
Motivation for sewing/quilting it at 0% right now. To-Do: FIND motivation! I must need a break. ✔️ Kind of … I've not working on FMQ as I planned this month, but I did make 2 placemat sets for my Father.
I should get back to FMQ Chic Country  …  ✗
I'm keeping up with the daily stitching of hexies for the Temperature Quilt, but not stitching them together yet.  ✔️ I've got January sewn together and started on February!
This week's To-Do List:
Quick weekend trip to PA to assist Dad in settling in to new assisted living apartment.
Mark some blocks for FMQ on Chic Country, maybe even quilt them.
I'm linking to Linky Tuesday and To-Do Tuesday.
Tags: Temperature Quilt