No, I really didn't get sidetracked! I am just finally caught up on a year long project and decided to share the progress!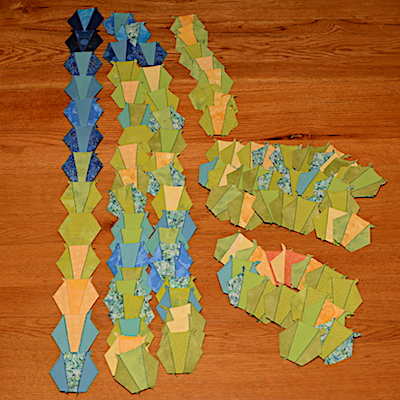 These pieced hexies are for my Temperature Quilt. I didn't get all the fabric together until February. Since then, I have been trying to do two hexies a day to get caught up to present. I reached that goal this week! I have all the hexies pieced through today. But I still need to get caught up on stitching the daily hexies together into months. January is under way, left side of the photo. Each hexie is showing the low temp of the day in the two outer pieces, and the high of the day in the middle.
Another EPP project that I'm finishing is prepping for a class at my local public library. I've put together kits for each person to make a little rosette. And now I'm working on a few simple projects to show what you can do with the rosettes.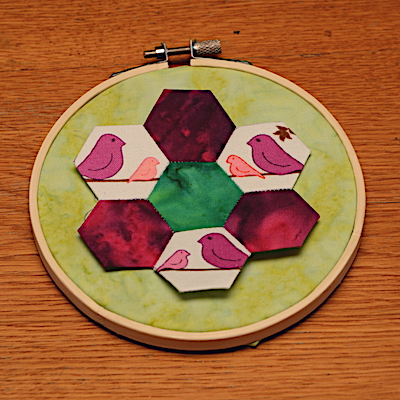 I need to stitch this rosette down to the fabric. It will be displayed in the 5″ hoop.
And for my To-Do list for this week, I did finish the purse made from a man's suit.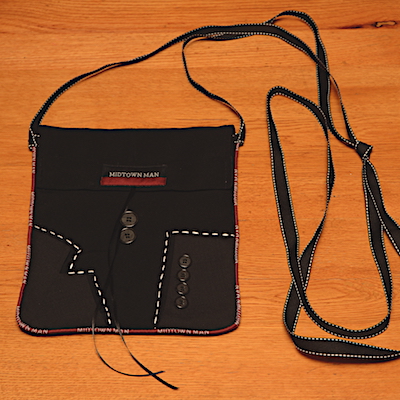 I'm calling it the Midtownman Purse, that was the tag inside the suit. There is black ribbon stitched under the Midtownman tag, wrap the ribbon around the center buttons as a closure for the purse. I left the strap/ribbon long, which can be shortened to fit the build of the gal receiving this purse who wanted it as a crossbody purse.
How did I do on last week's To-Do List:
Sandwich baby quilt. ✗ Hmmm. No, but I did buy a batting for it today.
Finish purse. ✔️ Ready to deliver this Friday!
To-Do List for this week:
Sandwich & start quilting baby quilt!
Work on UFO – Dresden Plate Table Runner.
It's been a crazy week with my son and his family living 2 hours away but driving up to house hunt. After staying with us Thursday – Monday, they drove home late Monday just to get a call from the Realtor that a new listing will be available to look at Wednesday morning. They are driving back up tonight! Phew! I hope they find their dream house soon!
Linking to To-Do Tuesday and Linking Tuesday.
Tags: Temperature Quilt