I have a lovely 1951 Featherweight. I take it to my sewing group days.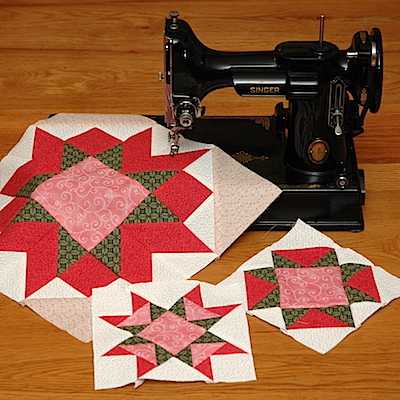 (Blocks are from a quilt I made and gifted Christmas 2016)
The last 2 times I used the Featherweight I had trouble getting the power to work. Actually, the last time I used it which was last Wednesday, it was not getting power. There seems to be a loose connection where the power cord attaches to the plug that plugs into the machine. Handyman Hubs has not taken a look at it yet, I'm hoping he can rewire it. If not, I'm looking for a new power cord. I've found several on line, so hope to have it up and running before my next quilty group meets to sew.
On to current sewing! I'm liking how the baby quilt is coming along.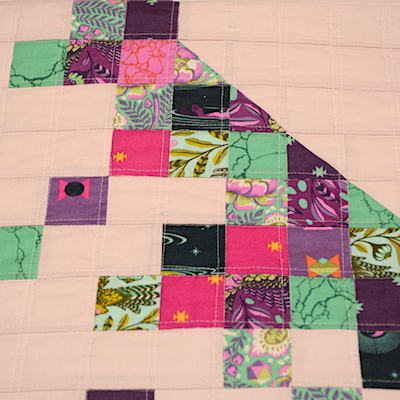 Here is a sneak peak.  1  1/2″ squares, grid quilting with a walking foot on my 8900 Janome, using So Fine! Superior Thread.
UFO Dresden Plate Table Runner is pinned and ready for machine blanket stitching.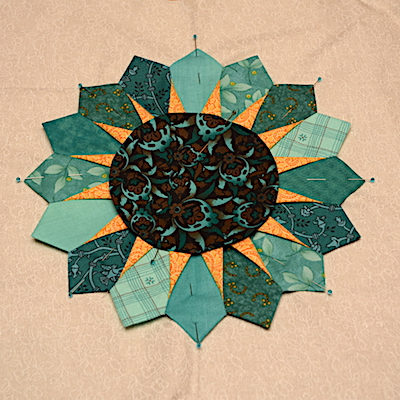 This was started at a class I took in 2015. I've made three Dresden Plates for a table runner.
UFO 2017 BOM piecing top is in progress. I finished all the blocks last year, but never got them sewn together. Now it's ready for the first border.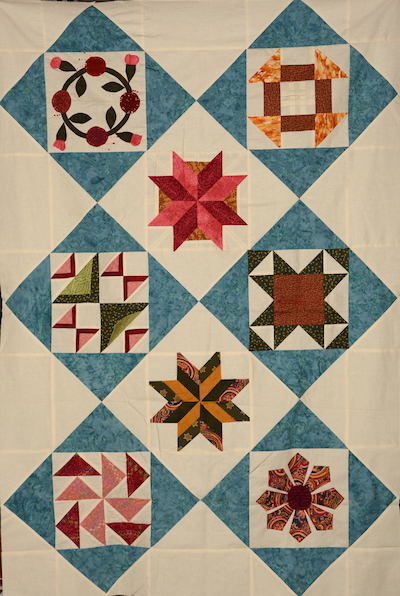 I have all the hour glass units sewn for the first border. I'll work on that step at my next group sewing day.
Do you have any UFOs to work on? I'm pleased to be getting these two back underway!
How did I do on last week's To-Do List:
Sandwich & start quilting baby quilt! ✔️
Work on UFO – Dresden Plate Table Runner. ✔️ I worked on 2 UFOs! The Dresden Plate and last year's BOM from the Facebook Group: Sit Down Free Motion Quilters.
To-Do List for this week:
Finish quilting baby quilt and Bind it!
Finish prep for EPP demo I'm presenting Tuesday, May 1st.
Linking to To-Do Tuesday and Linky Tuesday.