I was asked to make a purse from a suit, something a graduate could wear under a graduation gown. With no further instructions, off I go to find my creative juices & get this thing under way.
Part One: Cut apart the suit!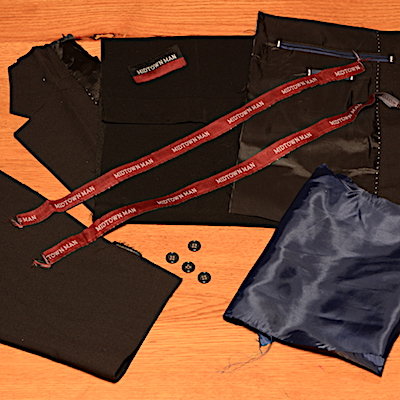 My plan is to use a leg with the cuff as the body of the purse. I'm going to embellish it with part of the lapel, sleeve cuff, and the Midtownman tag. Cording will be made using the Midtownman ribbon from the inside the waist band. I'll add the inside breast pocket to the lining for the purse. I'm not sure if I'll use the blue sleeve lining or something from my stash to line the purse.
I think I'll use buttons and cording for a closure. And I also need to figure out a shoulder strap. But there is still lots of suit fabric available to play with a few ideas. Maybe belt loops will come into play at some point.
Part Two: Construction! Here is how it is all coming together.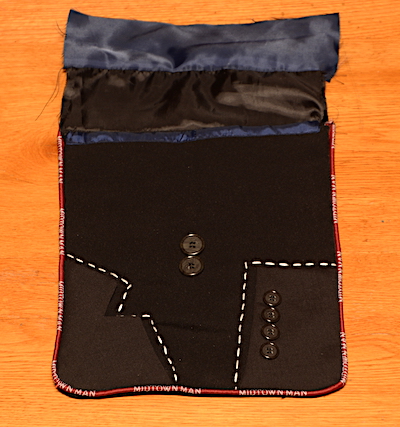 I wish I would have photoed the lining with the breast pocket before stitching it inside the purse! I still have a way to go on construction.  Lining is not yet complete, closure not started other than the buttons attached in center of purse, and I am still puzzling over a shoulder strap. I think it looks far better in person than in the photo, so don't be harsh with me! Thank you!
I hope you have had a productive week!
How did I do on last week's To-Do List:
Working on the other baby quilt (newest great niece quilt.) ✔️ Top done! I'll show it later this month once quilted.
Start order for a purse. ✔️
To-Do List for this week:
Sandwich baby quilt.
Finish purse.
Linking to To-Do Tuesday and Linky Tuesday.