A finish!
The baby quilt using a terry cloth robe is pieced, appliquéd, quilted and bound.
Here is the little teddy popping up out of the terry cloth pocket.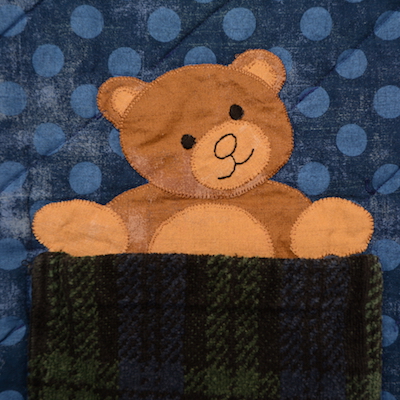 And here is his friend peeking around the 'corner' on the reverse side of the quilt.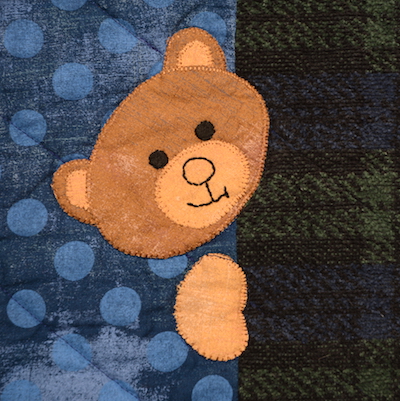 I hand embroidered the eyes, nose & mouth on both teddies and then used a machine blanket stitch to attach them to the quilt. I love the little smirk on this one, it is as if he is saying,"Tee hee, you don't see me!"
Quilting is simple diagonal lines stitched with the walking foot attachment.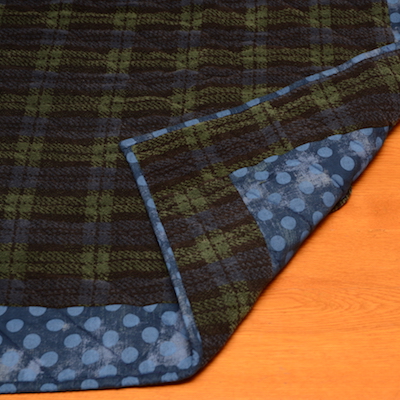 Binding done by machine.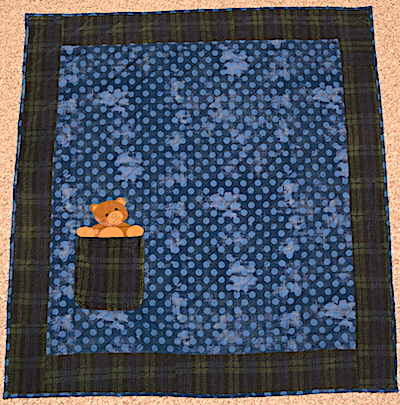 Teddy in a pocket side of the quilt.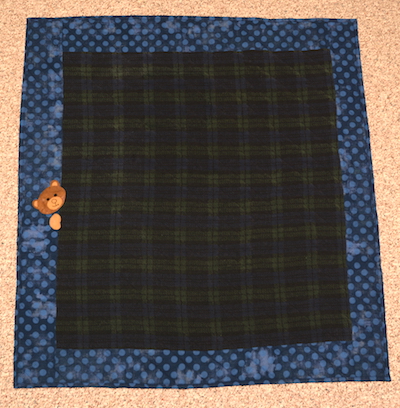 Teddy peeking around the 'corner' side of the quilt.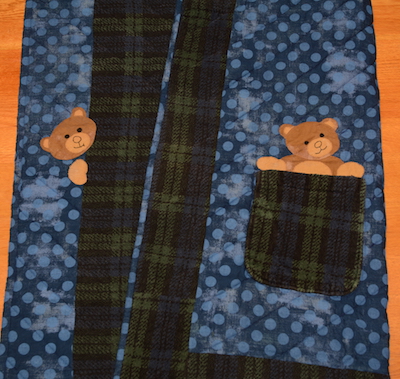 Quilt folded over to show both teddies.
Here the terry teddy quilt is all bundled up and ready to deliver.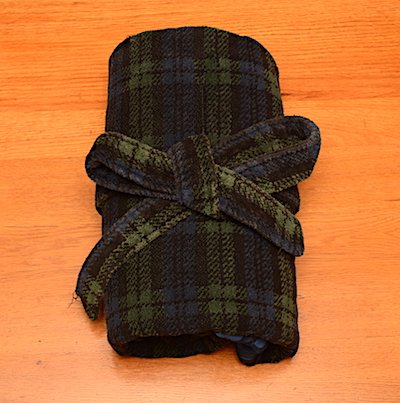 Quilt Facts and Thoughts:  The finished quilt measures 39 1/2″ x 42 1/2″. I was given the terry cloth robe with only a request to turn it into a baby quilt. That is called Creative Freedom, my friends! I purchased Moda Grunge to use with the Terry, with the plan to make the simple quilt as pictured above. The bears are machine appliquéd using Misty Fuse. I used Aurifil 50 weight, color 2745 for piecing and quilting. Color 2340 for the teddy appliqué.
Design – I thought using the pocket with an animal peeking out would be cute, and my daughter suggested using a teddy bear. Once the two sides were pieced, I thought the reverse side also needed a bear so I created the fella peeking around the corner. Once all appliquéd and pieced, I decided to use a thin batting and settled on Hobbs Thermore batting for quilted clothing, which I had in my batting stash from years ago. The terry was not the easiest fabric to work with, especially removing the pocket and belt loops! But I do like the final results.
Have your creative juices been flowing this week?
How did I do on last week's To-Do List:
Finish terry cloth robe baby quilt.  ✔️ Done! Happy Dance!
Start baby quilt for newest great niece. ✔️Cut, cut, cut, and piecing done!
To-Do List for this week:
Working on the other baby quilt (newest great niece quilt.)
Start order for a purse.
I'm linking to To-Do Tuesday and Linky Tuesday.