Last year I took part in Sandy's One Block Wonders of Upstairs Hobby Room. This week I basted, quilted and bound the top I pieced back in March of 2016. I did walking foot quilting in a simple wavy stitch. I stitched down the center of each pieced row and then also stitched diagonally right to left following the center and edges of the 'block' as my guide line. The binding is scrappy, using strips from the line of fabric.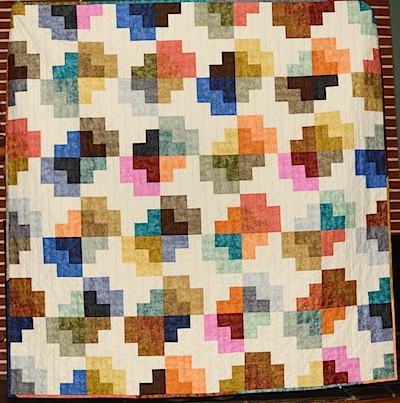 The top was made from Raindrops by Lonni Rossi for Andover Fabrics and Kona Snow for the background. The quilt is 60″ square. I used Warm & White batting.
Close up of quilting, using King Tut Quilting Thread by Superior Threads, 40 weight, Rainbow variegated color number 921. I used The Bottom Line by Superior Threads, 60 weight, color number 650.
There was a call for quilt donations for those affected by the Smoky Mountain/Gatlinburg fires. As I understand it, quilts will be collected through January 31st. Knoxville Modern Quilt Guild is collecting quilts. This quilt is heading there.
I'm still behind on Leah Day's 2016 Machine Quilting Block Party. I have the last 2 blocks pieced but not yet quilted.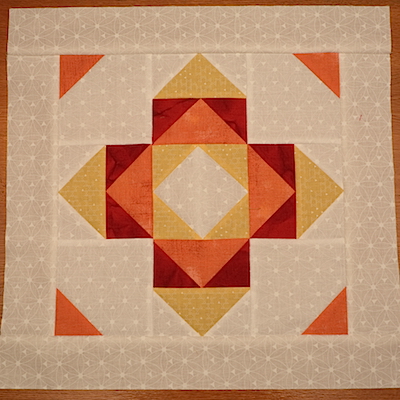 November's block.
December's block.
A new project for this year is making a slip cover for my living room sofa. I can check off making the piping for the cushions.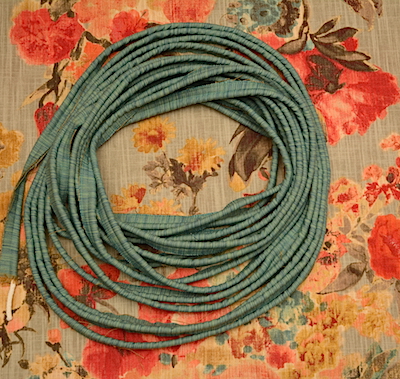 The piping is sitting on the fabric that will cover the cushions. Next up, sewing the cushion covers.
Maybe this should be a separate post, but, I have organized my quilting plans for 2017. I've organized my quilting notebook into the following categories: Quilts to Finish Piecing, Quilt Tops to Sandwich and Quilt, Quilts to make on my 'Wish to Make' list.
I'm particapating in One Monthly Goal  hosted by Elm Street Quilts. At the beginning of each month I'll post which quilt I'll focus on, taken from one of the three lists above, and then at the end of the month I'll share how I progressed. Hopefully there will be 12 finishes by the end of the year!
I'm tickled to already have my One Monthly Goal completed and will move on to another. How are your goals for the New Year coming along?
How did I do on last week's To-Do Tuesday List?
Finish pjs. ✗ Sigh. Didn't touch them this week.
Continue thinking about that slip cover? OK, I'll break it down into smaller tasks – this week make piping for the cushions. ✔️ Success!
Plan an attack on WIP from 2016. ✔️ I have my
Piece November and December's blocks from Leah Day's 2016 Sunshine Surprise Quilt-as-you-go BOM. ✔️
To-Do Tuesday List for this week:
Sew cushion covers for sofa.
Mark and quilt last 2 blocks from Leah Day's BOM.
Plan borders for enlarged Remembering Victoria pattern from Elm Creek Quilts book. This quilt is for my son and DIL. She picked out the pattern and fabrics.
Pjs???
I'm linking to To-Do Tuesday and Linky Tuesday.
Tags: Machine Quilting Block Party, One Block Wonders BOM, One Monthly Goal