Catching up! Slowly I go. November and December blocks from Leah Day's 2016 Machine Quilting Block Party are quilted! The next step is putting all the blocks together in Leah's quilt-as-you-go method. I'll be so happy to have this one checked off my list. Too bad I didn't keep up with it, I fell behind in November.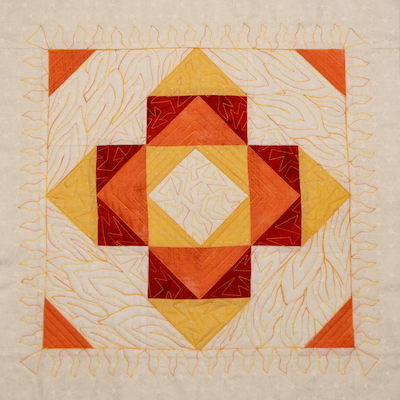 Actually, Leah shared instructions back in September to start the quilt-as-you-go method, so I'm really behind since September, as I don't have any of the blocks sewn together.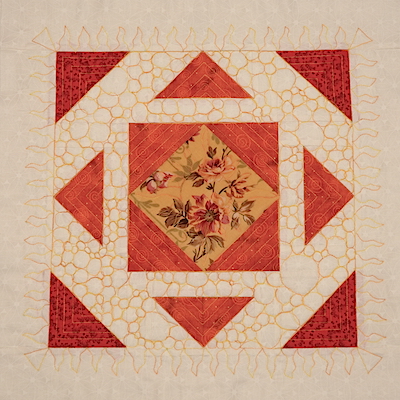 Another project I have going (bought fabric about a year and a half ago) is making a slip cover for my sofa. I've been working on covering the cushions this week. I got pieces cut out  - had to work up my nerve to cut into that fabric! Today I sewed 2 zipper closings. What in the world happened to that third zipper? Looks like I need to run to Joann's for a third zipper.
And since I like hopping around from one project to another before finishing one. UGH! Why do I do this to myself? I also calculated out borders for the quilt I'm making for my son and DIL. Sadly this is another UFO as I got to one point in the piecing and just didn't like the quilt. I'm convincing myself to finish it. Son and family will be in town next weekend, so I really need to got those borders cut and attached so I have progress to show them!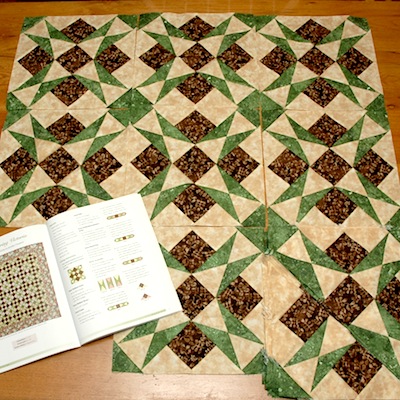 This is an old photo. The blocks are now finished & sewn in rows, and ready for borders. This quilt is Remembering Victoria from Elm Creek Quilts book.
How is your week going? Have you ever started a quilt for someone and just didn't like it? How did you solve the problem?
How did I do on last week's To-Do Tuesday List?
Sew cushion covers for sofa.  ✗  I should have said

sew three zipper strips

.  But I even failed at that b/c I only have 2 zippers. Oops! Need to run to Joanns for a third zipper.
Mark and quilt last 2 blocks from Leah Day's BOM. ✔️
Plan borders for enlarged Remembering Victoria pattern from Elm Creek Quilts book. This quilt is for my son and DIL. She picked out the pattern and fabrics. ✔️ Got it figured out.
Pjs??? ✗ I really don't like making garments, alas, not even really simple ones.
To-Do Tuesday List for this week:
Continue sewing cushion covers.
Cut and attach border to Remembering Victoria quilt.
PJs.
I'm linking to To-Do Tuesday and Linky Tuesday.