Last week, while being sidetracked from my to-do list, I made up a spreadsheet of the quilt tops I've completed over the past year. Some were WIP, Works in Progress from previous years. Some were new quilts, and others are from One Block Wonders BOM, Block of the Month, I joined for this year. I'm pleased to say, I got the tops all measured, batting all cut, and even some have backs and binding ready! The large tops I placed on hangers and they are neatly stored in my sewing room closet.
While organizing the tops, I came across the cute May Blossoms table runner I made back in the Spring while participating in the One Block Wonders BOM. I allowed myself to be sidetracked once again to finish the table runner instead of sandwiching and quilting the Christmas Tree Skirt, which is what I should have been completing.
When I set aside the May Blossoms table runner, the top was pieced and appliqué fused in place.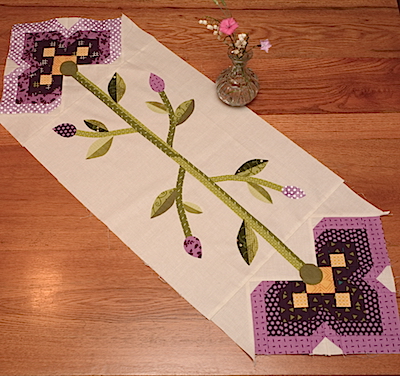 This past week, I blanket stitched the appliqué, sandwiched, and started the quilting.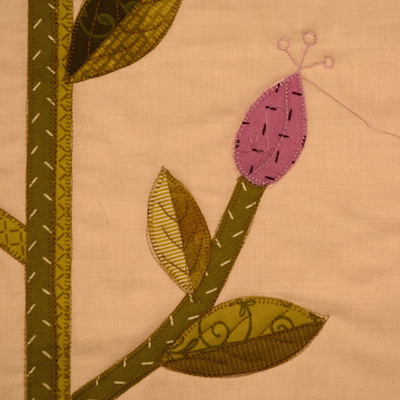 Shucks, its not done, but well on the way.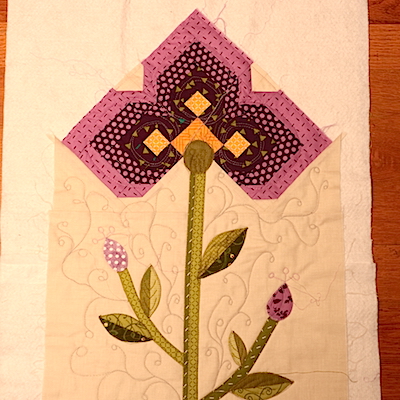 If you are interested, Sandy of Upstairs Hobby Room has 8 of the 12 One Block Wonders patterns listed on Craftsy. She plans on posting all 12 patterns soon. For the BOM, Sandy provided instructions for one pieced block each month. Then we used the block design anyway we wanted. For May I added stems, leaves, and buds to make the table runner. I pieced 3 blocks for each end of the runner to be form a flower.  Sandy is now has expanding the instructions to make full size quilts, available on Craftsy.
At my Thursday Curvy Quilters sewing day, I worked on piecing star points on to pieced and appliquéd blocks for the Timeless Tradition BOM.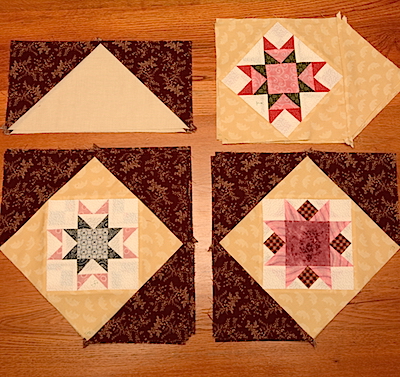 Oh, and I selected, prep, cut appliqué pieces and fused the pieces in place for 4 blocks before going to Thursday's sewing.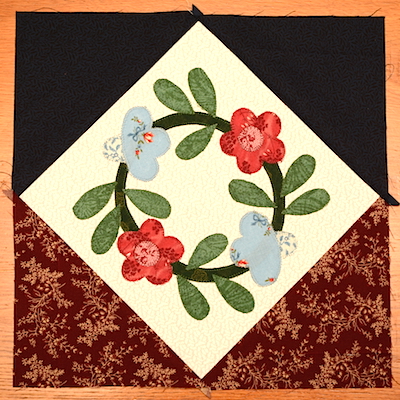 I'm using all fabrics – so far – from my stash for the Timeless Tradition quilt and I'm liking how it is turning out. Using from my stash was just a little challenge I decided to try. So far so good!
This weekend we have out-of-town family coming for a visit. That means I need to do a little sprucing up of guest rooms. I'm looking forward to spending time with them!
One of the quilting Facebook groups I follow posted this today: Quilting makes me feel ______. How would you fill in that blank? I'm feeling accomplished right about now!
How did I do on last week's To-Do Tuesday List?
Piecing star points on BOM Timeless Tradition blocks. ✔️
Select, prep, cut appliqué pieces for 4 blocks of Timeless Traditions BOM. ✔️
Sandwich and quilt Christmas tree skirt. ✗
Purchase November's Machine Quilting Block Party pattern. ✔️
To-Do List Tuesday for this week:
Sandwich and quilt Christmas tree skirt!
Finish quilting May Blossoms table runner.
Continue piecing Timeless Tradition quilt top.
Enjoy family visiting this weekend.
I'm linking to To-Do Tuesday and Linky Tuesday.