This was a good sewing week.
The Christmas Tree Skirt I've been working on is quilted and ready for binding!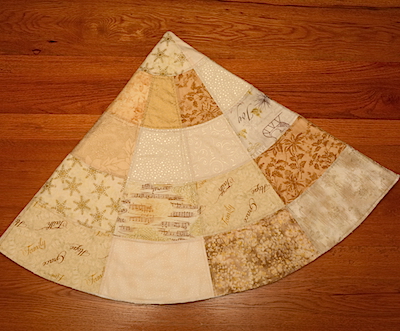 I think I'll do a scrappy binding, it's on my to-do list for this week.
The May One Block Wonder table runner is also quilted and the binding made and attached!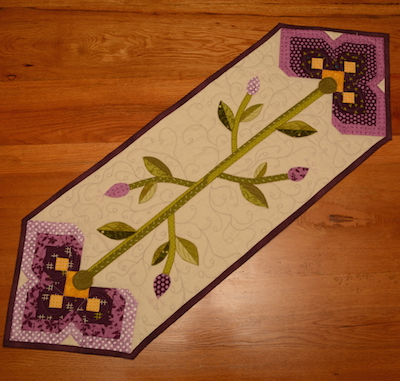 I learned something this week. When attaching the binding to the May Blossoms table runner, one of the corners just would not turn into a nicely mitered corner.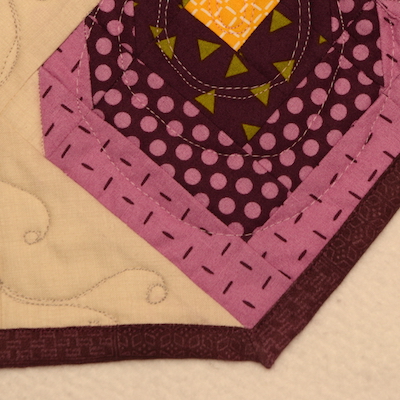 I fiddled and poked and pressed and fussed, and just could not figure out what I did wrong on that one corner. So I googled "mitered angles" and found this youtube: Mitered Binding for Different Angles.  It seems that I didn't fold the binding down far enough on that one corner. Live and learn! I'll be ready to attach a nicer binding next time!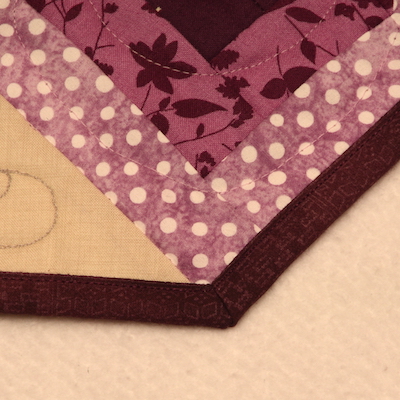 The above mitered corner looks so much nicer than my 'oops' one.
Timeless Tradition BOM is coming along. I have sewn the set triangles on to the pieced blocks and trimmed them to 12 1/2″. Next up is sewing the blocks into rows!
Thursday, I picked up a quilt from a client to bind for her. I cut and pieced binding strips for her 90″ x 102″ quilt today. I also picked up t-shirts for another quilt. Prep and trimming are in the plans for this coming week!
How has your week gone? Have you learned any quilting tricks this past week?
How did I do on last week's To-Do Tuesday List?
Sandwich and quilt Christmas tree skirt! ✔️ Next up, binding.
Finish quilting May Blossoms table runner. ✔️Ready to use Spring 2017!
Continue piecing Timeless Tradition quilt top. ✔️ Just a little bit of piecing and trimming.
Enjoy family visiting this weekend. ✗  Sadly they got sick and didn't get to come for the planned visit. But our middle daughter surprised us by dropping by Sunday night. It is always nice to visit with our children!
To-Do Tuesday List for this week:
Bind Christmas tree skirt.
Continue piecing Timeless Tradition quilt top.
Bind client quilt.
Prep t-shirts for client quilt.
Tags: One Block Wonders BOM