Birthday celebrations! Hub's birthday was Saturday and mine is today! And three of our five children are born in March on the 14th, 19th, and 21st! We had hoped to have a family gathering Sunday the 5th but two of our kids families have picked up the dreaded Covid bug. We'll have that family gathering once all are well. We are praying for swift and complete healing. They have all had the vaccine and boosters, so hopefully that means a milder case of the bug.
Here's what my week shaped up to look like -
To-Do Tuesday, February 28, 2023
I suppose I should move working on daughter's house to the top of the list. There is wallpaper paste and bit of paper to remove which I really have no desire to do. But I can tell you it is a much nicer (cleaner!) job then demoing plaster walls! ✔️
Maybe work on charity quilts  ✔️
Or pull out the other project I hoped to work on last year.  ✔️
1.  Work is progressing on our daughter's house! Here are a couple photos if you are interested.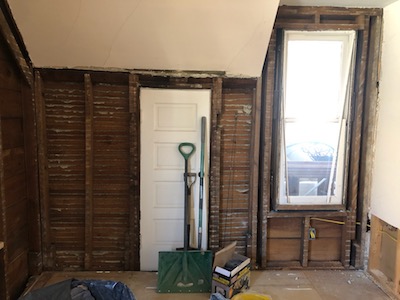 There are two bedrooms in the front of the house, second floor. This is the smaller of the two. The window opens to a Three Season Room. The door is to an odd shaped closet built into the eaves. It's being ripped out to reconfigure for better storage. These are 100+ year old plaster walls on lathe. What a mess to pull out and clean up! Two good things about pulling out old plaster walls are  1. we can add better insulation 2. it's easier to rewire to upgrade electric.  Some of the areas between studs had NO insulation!
Now, if you can imagine, compare this photo to the first. This is the larger bedroom and there was a wall where there are now only studs on the right of the photo. This is the same space as the closet in the first photo. Dead wasted space here. This area will be reconfigured so there will be identical storage in both bedrooms making use of the space in the eaves. This room has the door to enter the Three Season Room.
Just for fun -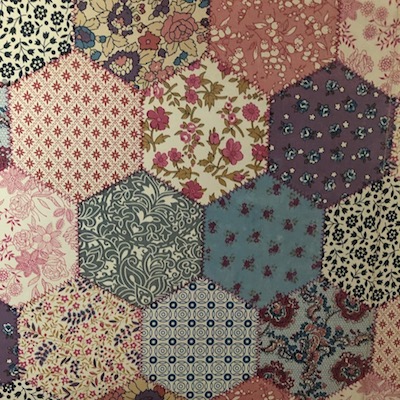 My daughter pulled this lovely hexagon wallpaper out of what will be her bedroom! Can you believe she would do such a thing!? Ok, I really don't blame her. The hexies would be better as a quilt than papered on a wall.
2. I did work on charity quilts!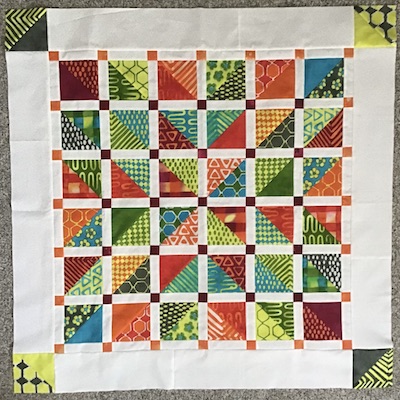 This pattern was offered earlier this year by Wendy Sheppard as a charm pack weekend quilt along. I changed it up a bit to make a larger quilt at 39 1/2″ square instead of 33″ square. I used Moda's charm pack Poems from Pebbles by Malka Dubrawsky.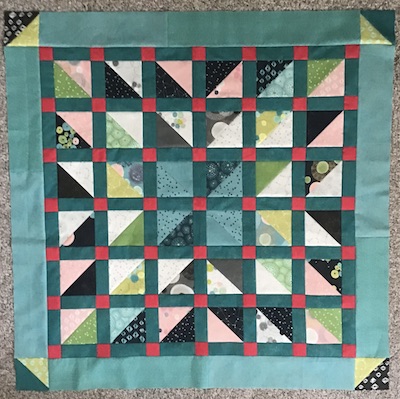 Same pattern, different charm pack! I used Dance In Paris by Zen Chic. I widened the sashing from 1″ to 1 1/2″ to again enlarge the top this time to 42 1/2″ square.
3. And I started a new project!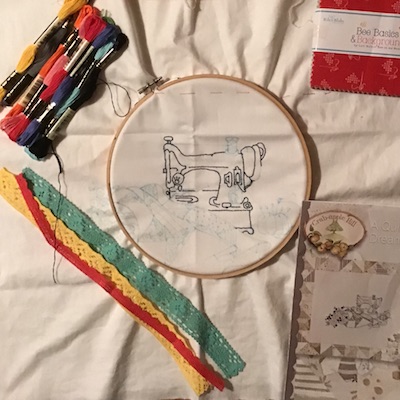 I started on this hand embroidery project. The kit is from The Featherweight Shop which I bought for evening stitching in 2022. I am just how starting it as I was first stitching the EPP Homage to Grandmother's Flower Garden in the evenings. Now that the Homage top is complete I've moved on to embroidery. The pattern is photoed in neutrals, but the kit was also offered in brights with Lori Holt fabrics. I'm going with the brights.
PLUS I worked on one more thing. I pulled out a PUP (Previously Unfinished Project) from 2013.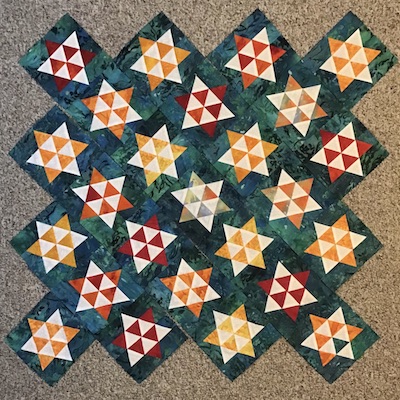 10 years old! This is Dancing Stars a paper pieced pattern by Amy's Creative Side. I had 25 stars made up so I'm going with this layout. I need to cut the set triangles and finish sewing the rows together.
That was a full week! And here's what is coming up -
To-Do Tuesday, March 7, 2023
Celebrate birthdays!
Work on daughter's house. The project that keeps going on and on!
Finish Dancing Star quilt top.
Evening stitching Featherweight.
Friends from TN are to visit next week, (Sunday-Saturday) prep for their arrival!
What will you be working on?
Linking to To-Do Tuesday hosted by Carol of Quilt Schmidt.