I missed posting last Tuesday, October 11th. What a week! Our friends from TN arrived for a week long visit Saturday 8th, after many postponed trips.
Monday, October 10th my husband had surgery to repair his BROKEN right wrist! Shattered actually. He miss stepping off a ladder and now sports a plate and screws in that wrist. Stitches come out this Thursday. He was in a lot less pain after surgery than right after the fall. Meds and ice helped to keep the pain at bay.
A broken arm and surgery were most definitely not in the plans for the week but here are some things we DID enjoy – LEGO Brick World, walk at a park as Fall colors are just about at their peak. Shopping, eating out, and Quilting!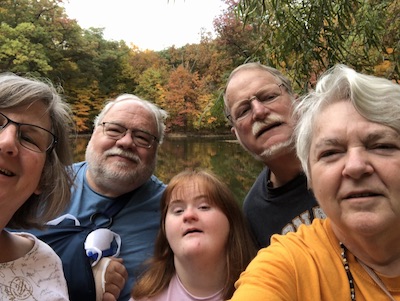 Here we are out in nature. I'm on the left. Hubs next, see his iced arm in a sling? He's smiling!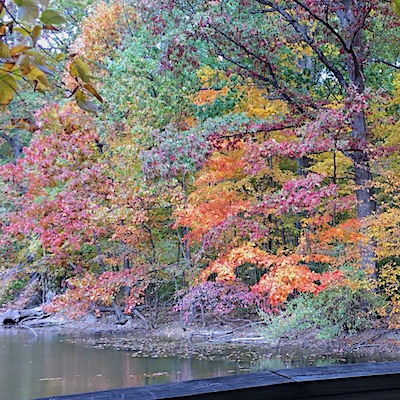 Pretty Fall colors
My friend, Janie, has a much loved Trip Around the World quilt her grandmother made and it is very worn. After deciding it's too worn out for repairs, I suggest she make a new one. Fabric was purchased a while ago, I cut all the fabric for Janie and she got busy making her first quilt!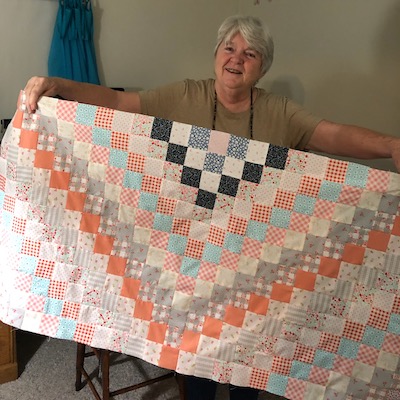 Here's Janie with the quilt at the half way point! That's as far as we got this week. Look at that happy face! Janie's first quilt!
Did I do any quilting on my list these past two weeks?
 To-Do Tuesday, October 4, 2022
Keep plugging along on Homage to Grandmother's Flower Garden. ✔️
Quilt up a baby quilt. ✗
Friends coming for a visit this Saturday through the following Saturday. Janie would like to start a Trip Around the World quilt for her daughter. We will attempt that! ✔️
1. Homage to Grandmother's Flower Garden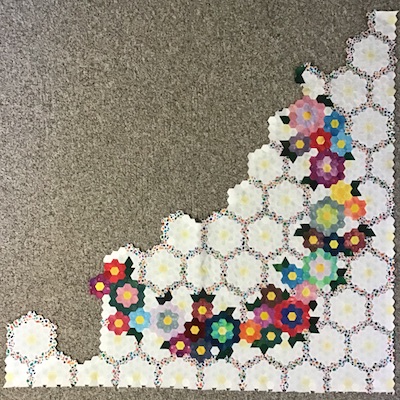 Weeks 1-27 all attached.
Week 28 ready to attach to the quilt.
2. I didn't quilt any of the baby quilts waiting for me.
3. We had a lovely visit with our friends from TN – even with surgery fitting into the schedule! The week went by too quickly. We didn't do all the fun things on our list so another visit will just have to happen, hopefully in the Spring of 2023!
I'll end this post with We Got An Inch Of Snow last night! Where did that come from? It was a heavy wet snow taking down many tree branches through out the neighborhood and town. Cool Fall weather one day, and snow the next. Weather forecast is for temps back into the low 70s this coming weekend. The weather is acting crazy!
To-Do Tuesday, October 18, 2022
Homage to Grandmother's Flower Garden, attach week 28, start week 29.
Quilt two baby quilts, and hopefully bind them too.
Meeting with friends of WMWM (Wednesday Morning Women's Ministry) to cut fabric for charity quilts.
Thursday Hubs post-op appointment, stitches taken out.
Linking to To-Do Tuesday hosted by Linda of Texas Quilt Gal.