Only a few things happened in my sewing room this past week. Playing around type things. I had the grand kids in and out a lot this week. During one visit they asked to watch Youtube – they have a few kid friendly shows their parents will allow. The computer is in my sewing room, so I gave in to their requests – hate to have them doing much screen time – and while they watched for a bit I managed to get a binding on a baby quilt. Then outside we went!
To-Do Tuesday, September 27, 2022
Homage to Grandmother's Flower Garden, week 27. ✔️
Work on back and maybe sandwich Eagle quilt.  ✔️
???  ✔️
1. Homage to Grandmother's Flower Garden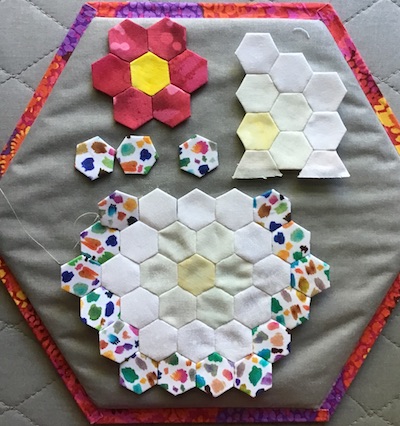 I'm still stitching away on Week 27. Not together yet. I'm not sure where this week has gone, but it wasn't in my sewing room!
2. Eagle Panel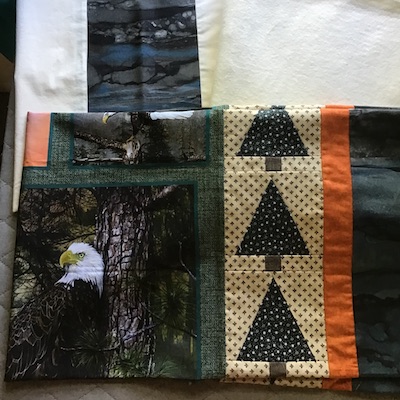 I did sew together a back using muslin and the fabric used for the outer border. Not sandwiched yet.
3. Looking around my sewing room, I found a fusible batting. I bought it a while ago to test out and see if I like the stuff.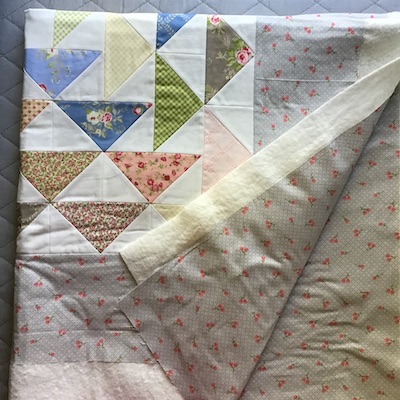 I sandwiched the flying geese baby quilt with the fusible batting. I have yet to quilt it.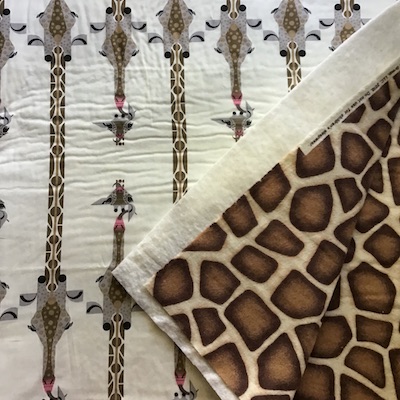 And I also used it to sandwich these two giraffe prints. Again, not quilted yet.
I'm pretty sure I don't like this fusible batting. See all the wrinkles? I'm hoping I can smooth them out as I quilt. It's stiff batting. So once the tops are quilted, I hope they wash up to be nice soft quilts.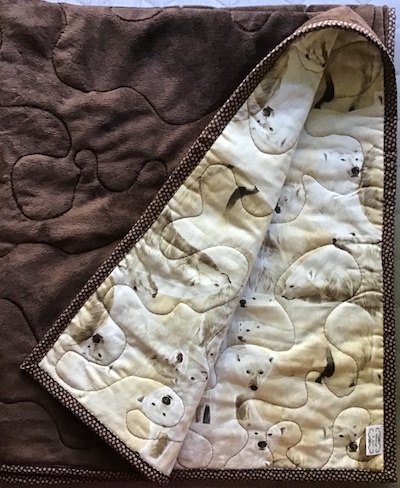 One more thing I played with – tested out – was Minky fabric paired with this bear print. Not my best quilting. I could not get the tension right on my sewing machine. I cleaned out my machine, changed the needle twice, fiddled with tension and just could not get it centered in the batting. So maybe I don't like Minky? I bought enough for two baby quilts. So have to "play" with it again. Maybe I'll switch to my Baby Lock for the second attempt at quilting with Minky. This baby quilt is 35″ x 40″ bound and ready to donate. I used Aurifil 1130 Very Dark Bark, 50 weight for bobbin and top thread.
 To-Do Tuesday, October 4, 2022
Keep plugging along on Homage to Grandmother's Flower Garden.
Quilt up a baby quilt.
Friends coming for a visit this Saturday through the following Saturday. Janie would like to start a Trip Around the World quilt for her daughter. We will attempt that!
Linking to To-Do Tuesday hosted by Linda of Texas Quilt Gal.