Phew! I'm so happy to be able to say the 4 clothing quilts, tops and backs are all pieced together! It turned into a group effort with help from two friends! Read below and see photos of the quilts.
Last week's list -
To-Do Tuesday, July 19, 2022
Finish Week 18 of Homage to Grandmother's Flower Garden, attach to quilt. ➞ Stitched, not completely attached to quilt.
Prep and stitch Week 19 ➞ prepped and stitching well underway.
Nephew's t-shirt quilt ✔️t-shirts all prepped and cut to size.
Meeting with friend Friday to work on 4 clothing quilts for grieving family. ✔️ All four tops and backs are sewn together.
Progress made -
1. Homage to Grandmother's Flower Garden – Week 18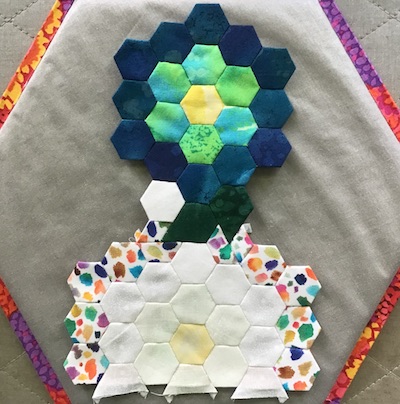 Week 18 stitched and ready to attach to quilt.
2. Week 19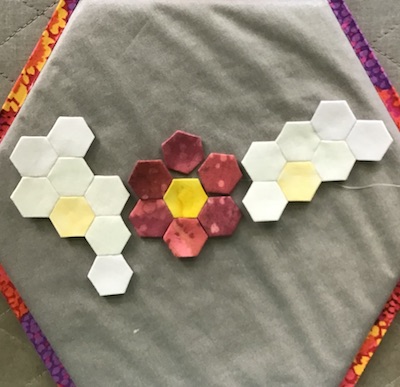 Week 19 under construction.
3. Nephew's t-shirt quilt – lots of fusing, cutting & sewing to prep t-shirt has happened.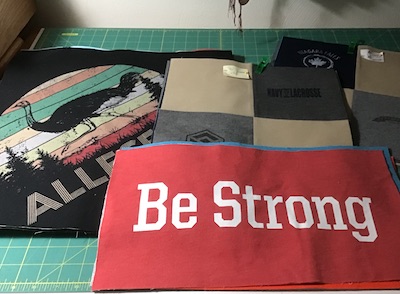 Layout and sewing rows up next.
4. Four clothing quilts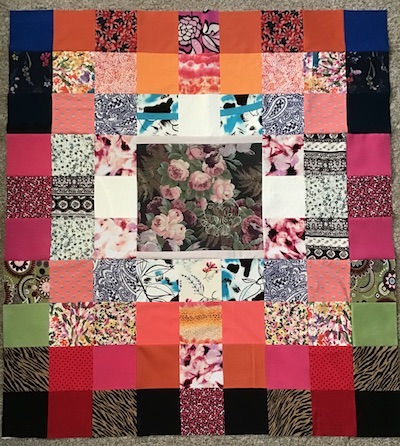 Tops are all sewn together. They all have the same fabric in the same layout for matching quilt tops.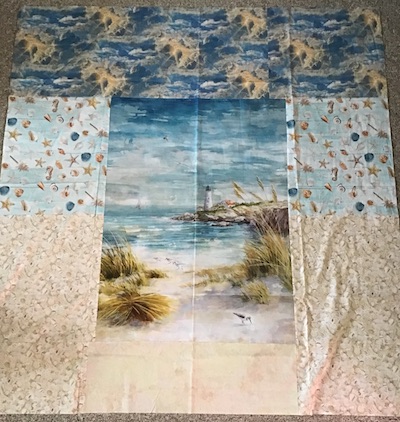 Friday I met up with not just one friend, but two, and we got the backs all sewn together! I wanted to buy a wide back for the quilts, but that got vetoed, so piecing the backs became the plan. I'm just happy that the backs are completed and we can move on to quilting.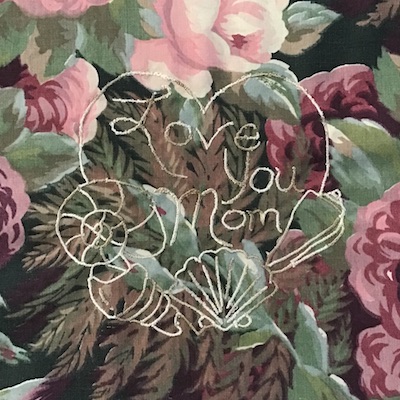 We did a heart and shell embroidery in the corner of the large pillow case pieced into the quilt top.
I'm so happy to have these 4 tops and backs ready for quilting. I have another friend who has volunteered the use of her long arm. I'm hoping to get over there soon to do an easy all over meandering for the quilting.
Other happenings in our lives -
This Saturday my husband's Native Garden will be part of the Indiana Native Plant Society Garden Walk. Just recently he applied for and was approved as an official native garden spot.  He's busy tidying up the garden for this weekend. We've had rain the past two weekends, forecast is looking good for Saturday!
Here's my new list. Not much change lately from week to week.
To-Do Tuesday, July 26, 2022
EPP Grandmother's Flower Garden, Week 19
Start sewing together the t-shirts, nephew's quilt.
Meeting Wednesday with quilting friends. I'll take along the EPP. Also, I plan on cutting out "Gene" on friend's accuquilt cutter for an upcoming project.
If possible, start quilting the 4 clothing quilts.
Linking to To-Do Tuesday hosted by Linda of Texas Quilt Gal.
Tags: To-Do Tuesday