Summer native flowers, cultivated flowers and English Paper Pieced Flowers are all blooming!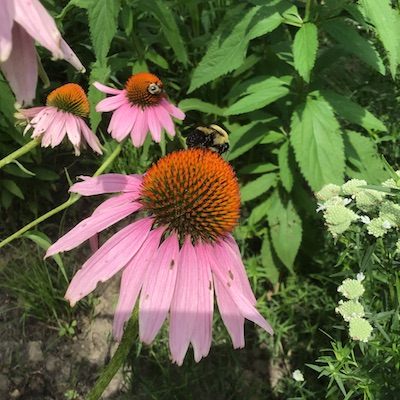 Bumble Bees enjoying the Cone Flowers.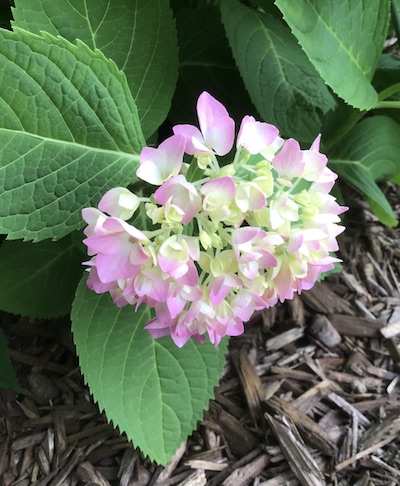 Our Hydrangea only but out a few blooms this year, but they are so pretty!
Here is last week's to-do list and what did get accomplished -
To-Do Tuesday, July 26, 2022
EPP Grandmother's Flower Garden, Week 19 ✔️
Start sewing together the t-shirts, nephew's quilt.  ✔️
Meeting Wednesday with quilting friends. I'll take along the EPP. Also, I plan on cutting out "Gene" on friend's accuquilt cutter for an upcoming project. ✗
If possible, start quilting the 4 clothing quilts.  ✗
1. EPP  Homage to Grandmother's Flower Garden
Week 1-18 all stitched together.
Week 19 ready to add to quilt.
Placement of week 19. I'll be stitching this in place this week, and move on to prep and stitch week 20.
2. Nephews T-shirt quilt
Nephew wanted something a little crazy. Instead of doing the usually straight grid setting, I cut most of the shirts out on point. Also used the shirts for the triangle pieces.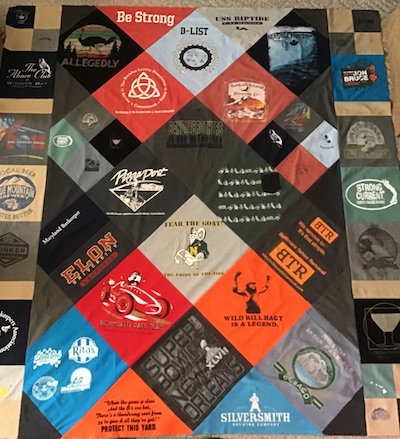 Next I added borders on the sides with 12″ finished squares.
It was a fun coming up with an unusual setting. Not that I want to do this again for a customer, but still, I enjoyed the process for a relative! I need to purchase backing. And get it quilted and bound before November.
3. I skipped meeting with my quilting group Wednesday. Low energy day struck me.
4. Friday did not work out to meet with friends for quilting clothing quilts. Plan switched to meet this Friday.
That's it for quilting, let's move on to gardening.
Last Saturday the Indiana Native Plant Society Garden Walk was a success with 6 gardens in the area open to visitors. We had about 75 people visit my husband's native garden. It was fun chatting with people interested in native plants, and some mentioning they hoped to start native gardens in their yards. I could even answer some of the questions about native gardening – Hub's knowledge rubbing off on me. Yesterday a landscaping business owner stopped by with part of her crew to show them how my husband uses native sedges as a border. She uses natives and cultivated plants in her garden planning.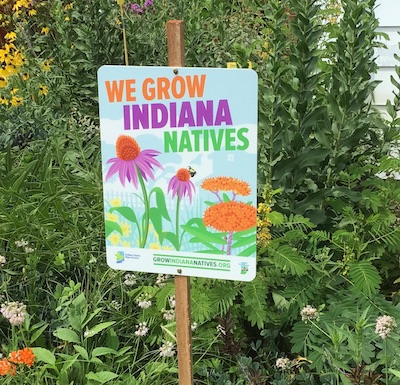 When you join the Indiana Native Plant Society this is the sign you are given to display in your garden.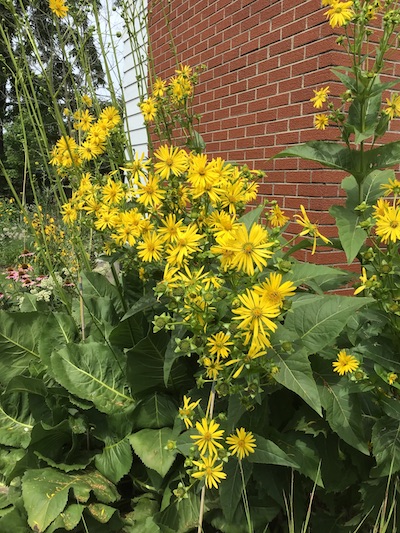 Just past the sign along the south side of our house we have Cup Plants growing. Goldfinches like for drink water held in the cup formed by the leaves at the stem of the plant.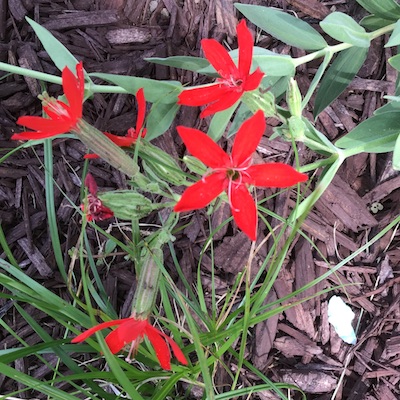 We have seen Hummingbirds visiting the Royal Catchfly. Too hard to catch them in a photo though.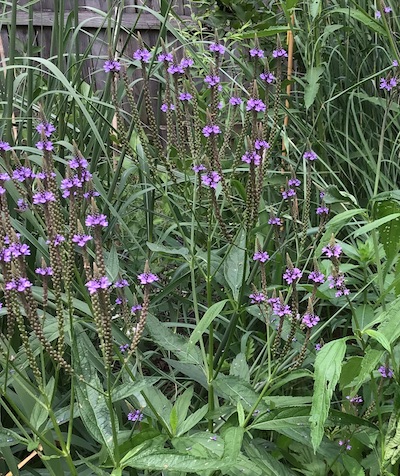 Here is Blue Vervain to show another color added to the summer natives. Right now there is a lot of yellow flowers blooming like False Sunflowers, Cup Plants, Compass Plant, Prairie Dock, Black-eyed Susans just to name a few.
Back to quilting. Here is a hopeful list for this week.
To-Do Tuesday, August 2, 2022
EPP Grandmother's Flower Garden, attach week 19 to quilt.
EPP – start week 20
Wednesday quilting day with friends, I'm taking the EPP project to work on, oh and cutting out "Gene" on friend's accuquilt cutter since that didn't happen last week.
Charity quilts, need sandwiched and being quilting.
Meet up with friends to start quilting clothing quilts this Friday.
Linking to To-Do Tuesday hosted by Linda of Texas Quilt Gal.