My November goal was to make headway on quilted gifts for Christmas.
Here are three finished gifts -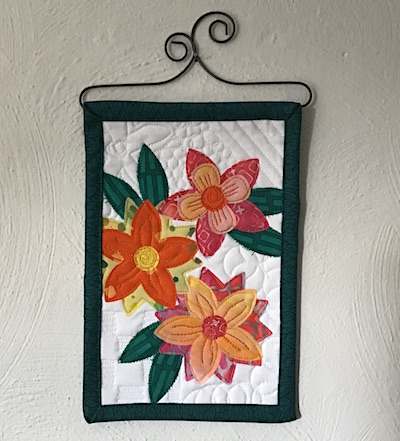 The mini quilt measures 6″ x 9″ with the hanger adding 2 1/2″ to the length. This gift is for a friend who loves the color orange. Raw edge appliqué.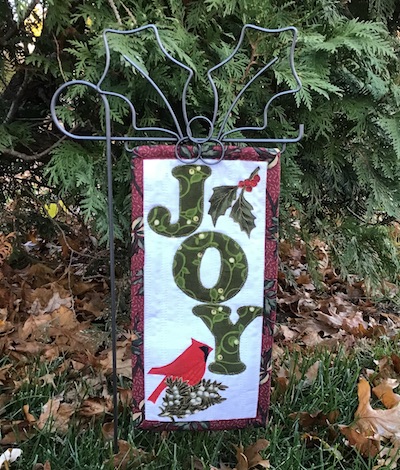 This mini is 5 1/2″wide x 12″ long. The hanger is 22″ long x 10″ wide. Raw appliqué with blanket stitching around JOY, and straight line quilting around the Cardinal and holly. This piece with the metal display is for a friend who loves yard art.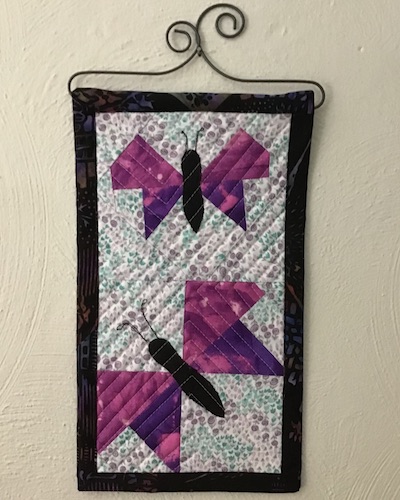 This pieced butterfly mini measures 6″ x 8 1/2″ with the hanger adding 2 1/2″ total in length. This is a free Moda Bake Shop pattern. The pattern is written for 3 sizes of butterflies. I used the 4″ and 6″ options.
I have three more gifts to finish for the scheduled gift exchange to be held next Tuesday December 7th. Here is the headway I've made on the last three.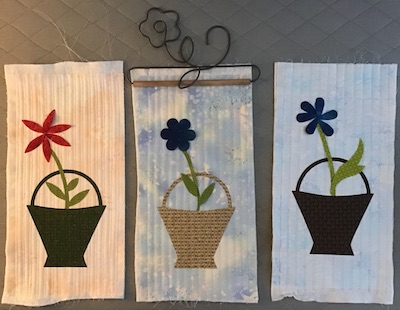 Background quilting completed. Baskets and flowers cut out and ready to fuse to background. Then stitch around each piece, and bind. These three will measure approximately 8″ x 14″ once completed.
The progress made on these 6 gifts I call successfully meeting November's goal!
Linking to One Monthly Goal hosted by Patty of Elm Street Quilts.
Tags: One Monthly Goal