What a wonderful family Thanksgiving was held at my house! Good food, good fellowship, fun times. I hope you can all say the same.
I'm glad I had a short list this past week as not much sewing happened.
To-Do Tuesday Week of November 23rd
Continue making quilted Christmas gifts. I'm making 6 total. 2 completed, 4 to go. ✔️
Maybe work on the wool appliqué.  ✗
Enjoy Thanksgiving with family!  ✔️
1. Christmas gifts. Three are completed and 3 more are underway.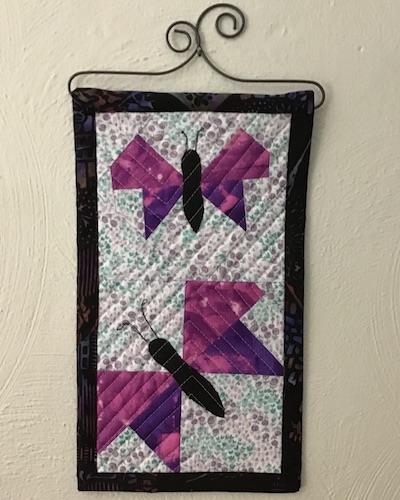 This is for a friend who loves pink, purple and Butterflies! It measures 6″ x 8 1/2″ with the hanger adding 2 1/2″ total in length. This makes 3 of 6 mini quilts completed.
I also have three more little quilts under way. You can see them here.
2. Wool appliqué was not touched, but thought about. Ha Ha! After cooking and visiting with family on more days than just Thanksgiving, no hand work happened.
3. Thanksgiving day was just wonderful this year! I don't know what made the difference, maybe more casual? We had good conversation, played games in several groups, grandkids stayed engaged in activities. And food! I did turkey and dressing, and 6 others pitched in to complete a traditional meal with all the trimmings.
To-Do Tuesday November 30th
Finish 3 mini quilts for Christmas gifts!
Work on flying geese charity quilt.
Not sure I'll do the wool appliqué – listed just in case!
Tags: To-Do Tuesday