Recently I've purchased some poor quality products. Happily though, when I contacted the companies they corrected the problems. Since I'm very happy with how both companies responded to my inquiries, I want to recommend and praise them for their great service.
First is The Warm Company. They make batting and supplies and advertise their cotton as grown and processed here in the USA. I bought a twin size Warm & White. When I took it out the the package to use, I found it full of hard little bits.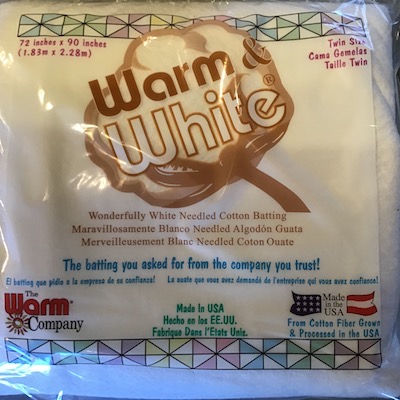 Once emailing the company, I heard back within 24 hours with an explanation that they had a bad run of cotton and thought they had caught it all before it went out to quilt shops. Oops. At least one slipped through and I happened to buy it. The rep offered to replace the batting. Later I got a tracking number from her and she said she slipped a few more things into the box.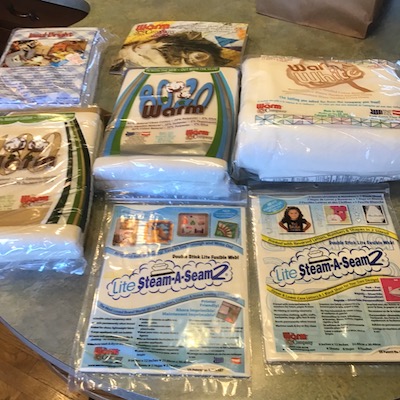 A few things! Look at all the goodies she so kindly sent to me! The rep sent Insul-Bright, Baby Size 100 Warm, Baby Size 80/20 Warm, a package of Lite Steam-A-Seam 2, a package of printed letters, numbers & shapes of Lite Steam-A-Seam 2,  a sample folder of their products, and the Warm & White twin size replacement! Needless to say, I recommend this USA based company.
Next is The Featherweight Shop. Hubs bought a 1951 Vintage Singer Featherweight sewing machine for me off Ebay several years ago. When I learned about The Featherweight Shop, I started buying parts from them. They have parts so you can free motion quilt on the Featherweight! Since I take, or at least used to take before Covid, the Featherweight with me to my group sewing days, I thought it would be great to have the ability to FMQ with my little machine.
While setting up my machine, I discovered one of the parts was warped.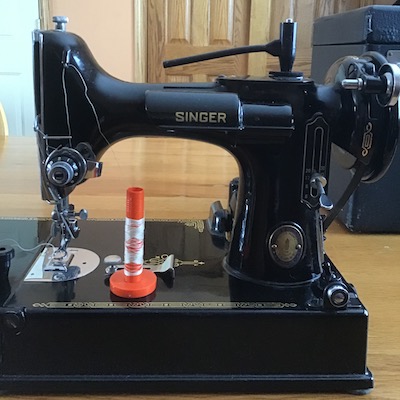 See the long black spool pin on top of the machine? It should be parallel to the top of the machine. I sent an email with the above photo to The Featherweight Shop and I heard back that it was indeed bent out of shape and they would send a new part.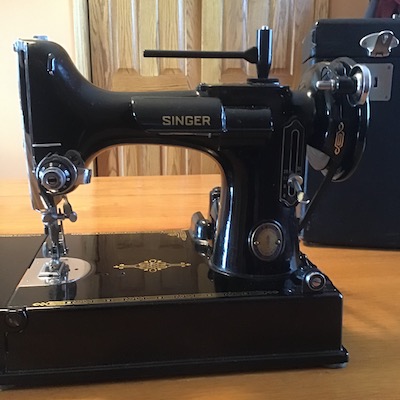 New spool pin. Doesn't that look better?
The Featherweight Shop sells more than just parts for the vintage machines. Go check them out for fabrics, notions and gifts!
Now to my To-Do Tuesday list -
I'm moving forward with the Clam Shells, and will share photos when I feel like I have something more exciting than just the rows of clam shells.
I posted about the You're Crazy Project Quilting 12.5 challenge here.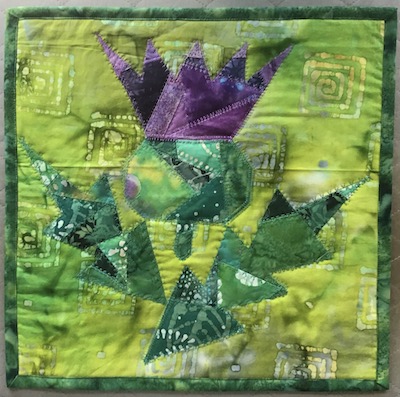 Crazy Thistle, my You're Crazy entry for this past week.
Last week I shared the Winter Aconite blooming. This week Snowdrops have opened!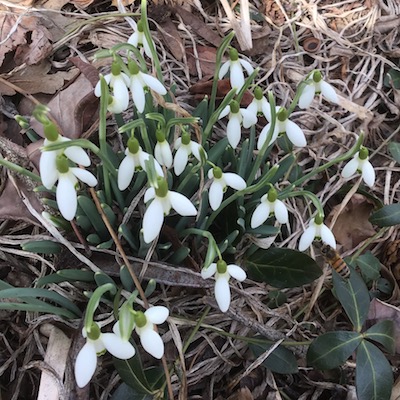 This is one of many patches in our yard. See the bee? Even the bees are happy to have fresh flowers blooming!
I hope you have a great week and time to check out The Warm Company products and The Featherweight Shop!
Last Week's To-Do List:
Oh those Clam Shells, keep plugging along. ✔️ Row prepping.
Project Quilting 12.5 "You're Crazy" Challenge.  ✔️ Finished and posted.
This Week's To-Do List:
Clam Shells – stitch stitch stitch!
Linking to To-Do Tuesday hosted by Chris Knits.