Project Quilting 12.4 Challenge is Snail Trail. Find all about the challenge here. There is time for you to join in on the fun, quilts must be finished by February 21, at noon CST.
Using the Snail Trail block, I built a flower.
I started with four yellow fabrics cutting squares at just one inch.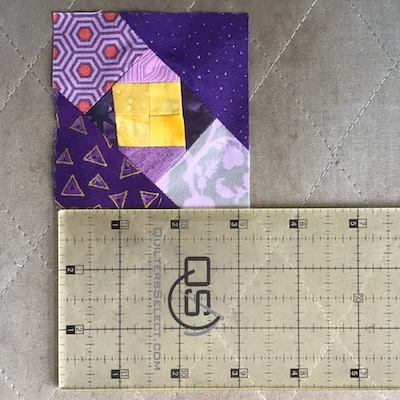 Then built around the center in light and dark purples, going very scrappy. Then I used two greens fabrics for leaves.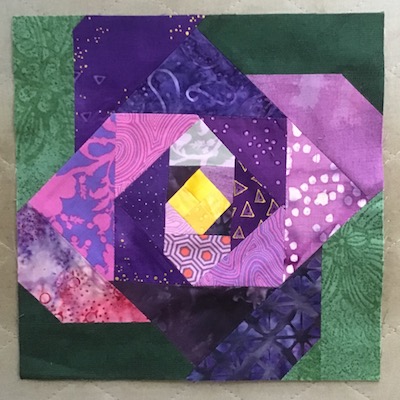 Here's the finished pieced top before quilting.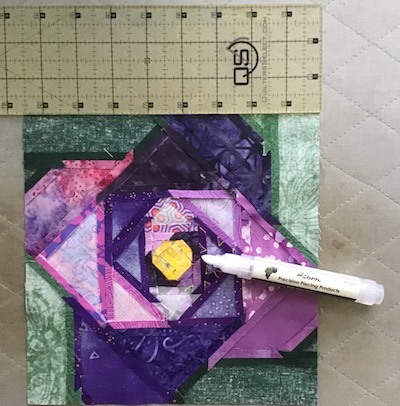 And here is the back. Seams pressed open and flat with the help of Acorn Precision Piecing Products. This little starch brush is new to me, and I really liked how it applied the starch, which helped with pressing the seams.
Here is a short youtube video if you are interested in learning about Acorn products. I bought the product at my LQS.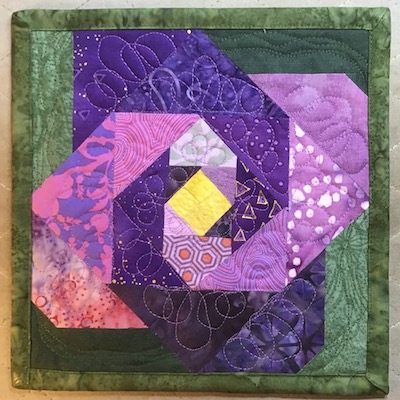 Snail Trail Flower mug rug quilted and bound. 8 1/2″ square. I used Aurifil thread through out project.
Back, showing quilting.
My list for To-Do Tuesday did not include the PQ12 challenge. But I'm happy to let it sneak in!
I did finish prepping all the Clam Shells.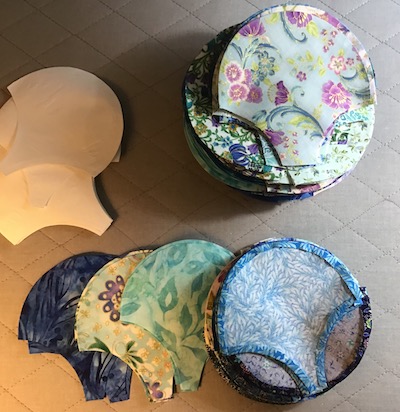 228, top right. 66 with concave curves pressed over.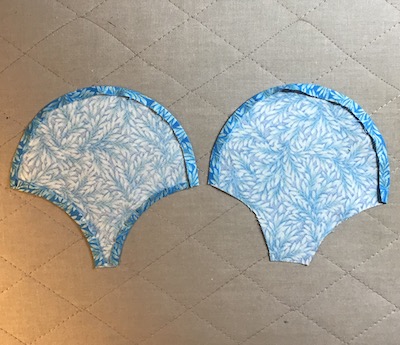 See the difference? The 66 with concave seam pressed will be the bottom row. 4 rows of Clam Shells total.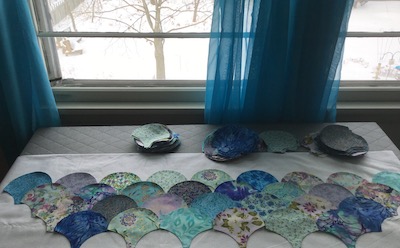 Mock up. I still need to cut and mark white fabric for lining up Clam Shells in straight rows.
See the snow through the window? We got an additional 12″ over night on top of the 6″ we already had! Nice stay indoors and quilt weather!
This week I need to switch to creating a baby quilt for a new nephew. Fabric bought and quilt planned.
See you next week!
Last Week's To-Do List:
Stick with Clam Shell making ✔️ All made!
This Week's To-Do List:
Need to make a baby quilt.
Layout Clam Shells on background (which needs to be cut) and start stitching in place.
Linking to Project Quilting 12.4 and To-Do Tuesday hosted by ChrisKnits.
Tags: Project Quilting 12.4