My Janome is home! She needed a cleaning and a tune up. I had a few questions about her.
While sewing I would sometimes get a little loop on the under side every 5-6 inches. Not always, and I could not get that loop when I wanted to have something to show the repairman. Turns out there was a spring that had come loose in the hook assembly. Hoping that solves the problem.
Another problem I have is tension when sewing with a cone of thread. There is a little $3 thread guide attachment that clicks into the hole for upright spool pin. The guide is supposed to help with tension when sewing from a cone of thread. I've not tried it out yet, but again, hoping is solves the problem.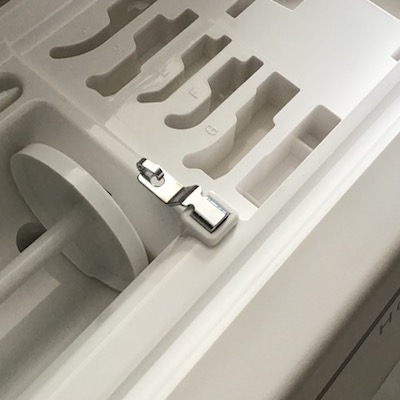 thread guide in place of spool pin
Clam Shells are in the making. The freezer paper templates I used for the first 228 clam shells got a bit beat up. I decided to make more templates to replace them. At this point I'm moving slowly, but progress is being made.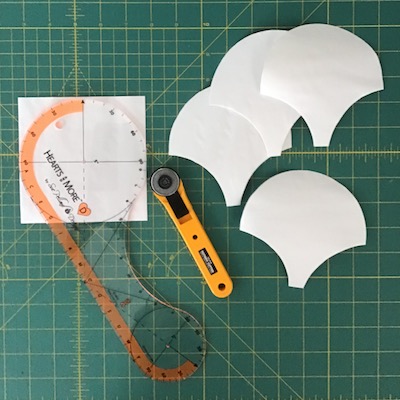 I've used Sue Pelland's Hearts & More Template to cut three layers of freezer paper fused together to make the clam shell shapes.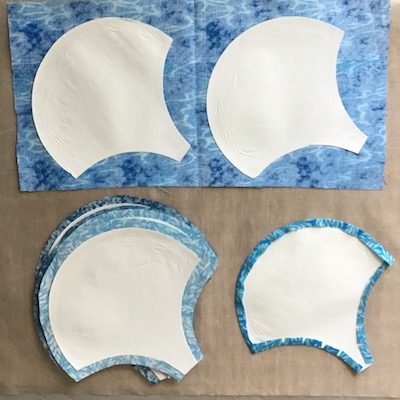 Using the freezer paper templates, iron to wrong side of fabric. Cut 1/4″ around freezer paper. Snip the 2 concave edges. Press edges around the freezer paper template. Once edges are pressed and have cooled some, remove the freezer paper. The Clam Shells are ready to appliqué in place.
Last Week's To-Do List:
Make more Clam Shells ✔️ Slowing moving ahead
Since Janome is in for a cleaning, I'll dig out the old Bernina and see how she is doing. ✗ Sewing mojo left and Bernina stayed packed away.
This Week's To-Do List:
Stick with Clam Shell making
Linking to To-Do Tuesday. This is the last week Roseanne of Home Sewn by Us will be hosting. I'll miss her happy posts! She is handing on the hosting to Chris of Chris Knits with next Tuesday being her first to host. Thank you Chris for continuing To-Do Tuesday!