This week I focused on making a baby quilt for a new great nephew.
I cut 4 animals from a panel to measure 8 1/2″ square. Moda panel, Thicket.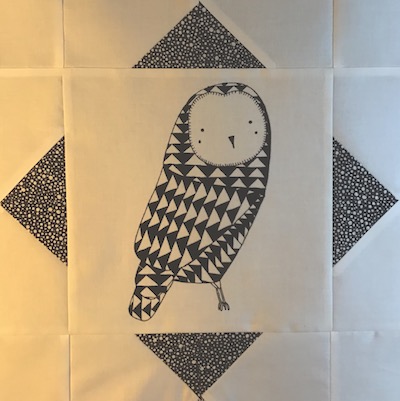 Excuse the poor lighting. I did just a bit of piecing around the animals making 16″ finished blocks.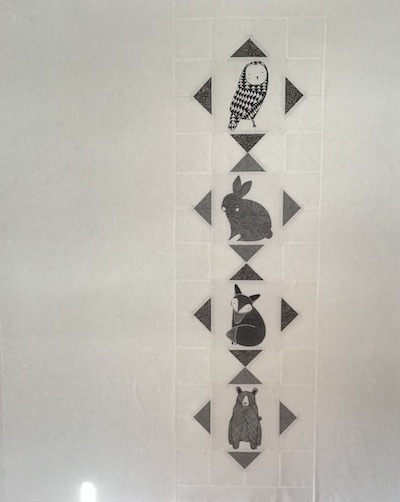 Then pieced 20″ of white fabric on the left side, and 10″ on the right side of the pieced blocks.
Aren't those cute animals? Owl, Bunny, Fox and Bear.
My niece requested no colors in the baby quilt. She is decorating in woodland animals in grays, so I hope this quilt will be well received!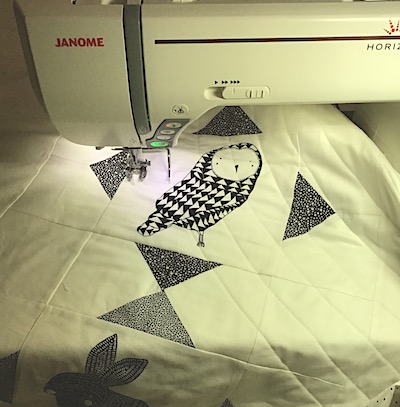 Quilting started using  a walking foot, curves set 1 1/2″ apart. I'm using Aurifil 50 weight thread, Natural White color #2021.
I'll bind the quilt in the black and white print used in the pieced owl block.
I was hoping to finish by today, but other things happened. And tomorrow is looking full too. So I'll just keep moving along as time allows.
I did not touch the Clam Shell quilt. Hopefully I'll get to it this coming week!
How are you plans working out so far this year?
Last Week's To-Do List:
Need to make a baby quilt.  ✔️ Working on it!
Layout Clam Shells on background (which needs to be cut) and start stitching in place.  ✗  Oops, didn't get to it this week.
This Week's To-Do List:
Finish and mail baby quilt.
Get back to Clam Shell quilt.
Linking to To-Do Tuesday hosted by ChrisKnits.