Happy December everyone!
First up, here is a happy ending to November, the last block in Helen Godden's Flower Power 2 Quilt-along.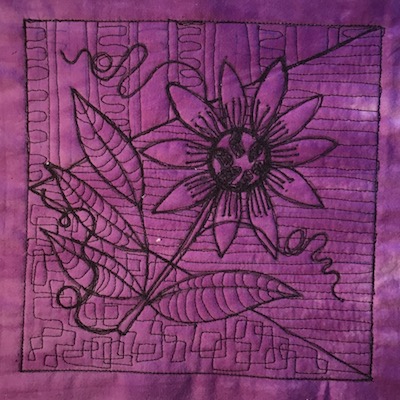 Block 9 Passion Flower. It will be a while before I sew the 9 blocks into a quilt.
On to new projects!
For the past several years Helen Godden has offered a free Christmas Countdown Quilt-along. This will be my fourth time participating. I'm not sure how many she has offered.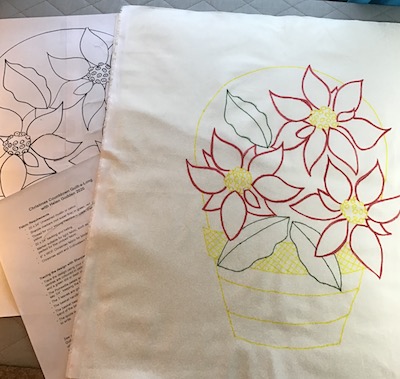 This year she designed a Poinsettia Flower Basket for her Christmas Countdown. Each day we will fill in a leaf, a petal or part of the basket. That means very little stitching each day which means I should be able to stay on track. I love her creativeness in how she fills up her designs with a variety of stitching.
My next new project is a quilt for my grandson turning 3 in January. He loves all things with wheels! Trains are a favorite. I've been collecting patterns and fabric.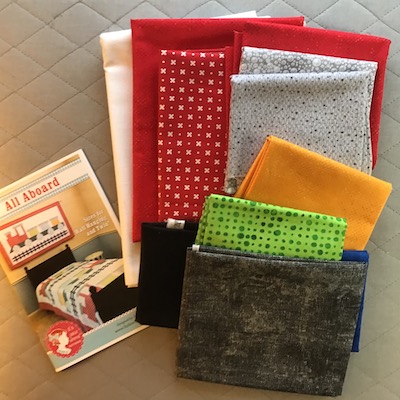 I'm starting with this train and will be adding cars and trucks of all kinds.
And of course I will keep plugging along on my son & DIL's quilt. I have the first three sections completed, sewn together with the seams covered with sashing.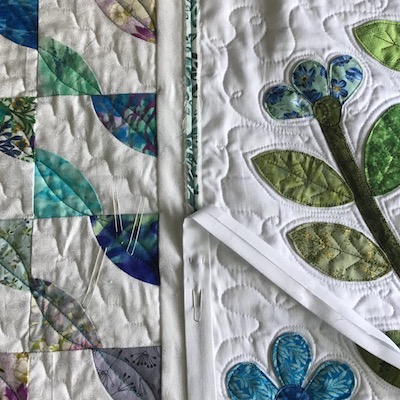 Sashing being pinned over the seam.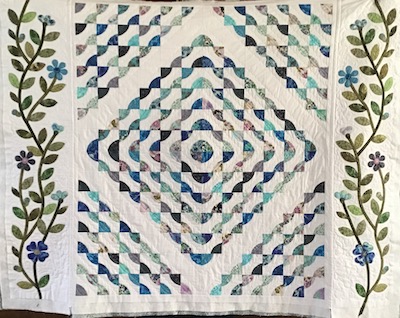 First 3 sections completed! Next up, appliqué continues around to top and bottom of quilt center.
November was a good month. I hope to keep up with life in December. Hopefully buying a Christmas tree and decorating it and the house later this week. When the kids were growing up we had the tradition of eating out for breakfast and then tree shopping with our 5 kids. Once home we put on Christmas music and all got busy decorating. Now we are empty nesters, altho our youngest daughter said she would join us for breakfast and tree shopping later this week. I'm waiting for her to pick a day. Busy girl, work and attending college for her second degree.
Last Week's To-Do List:
Celebrate Thanksgiving! Since my family has decided to not have a family gathering this Thursday, (Covid), my local kids suggested a food swap for Thanksgiving. That way we are not all cooking the full traditional meal. I'm doing the turkey, dressing, gravy, and 2 pies. The kids are filling in everything else. I'll let you know next week how the swap works out. ✔️ Food swap went well! So much food! Turkey and all the trimmings for a crowd and 4 pies! Kids brought servings of their dishes to our house, and then took home portions of what I prepared. I still have turkey – hubs bought the smallest one he could find – 22 pounds!!!!
Stitch up last block of Helen Godden's Flower Power 2 quilt along.  ✔️ All stitched but blocks not sewn together.
Add sashing to son & DIL's quilt. ✔️ Yes!
This Week's To-Do List:
Keep up with Helen Godden's Christmas Countdown quilt-along.
Stitch up the train for my grandson.
Start pinning applique to top and bottom of my son & DIL's quilt.
Linking to To-Do Tuesday hosted by Roseanne of Home Sewn by Us.