Prepping appliqué flower pieces is almost complete! I still have to make centers for flowers and green buds.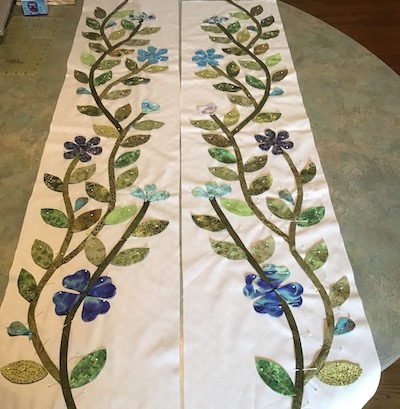 Vines, leaves and flowers pinned in place for the sides of the quilt.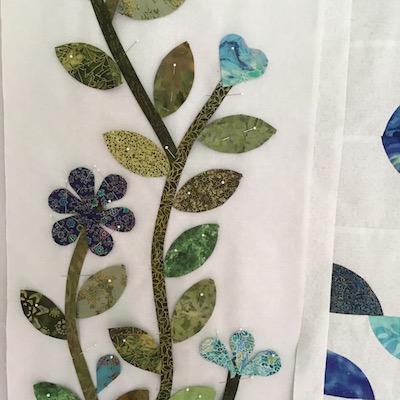 Close up of the different flower shapes. And leaves, vines.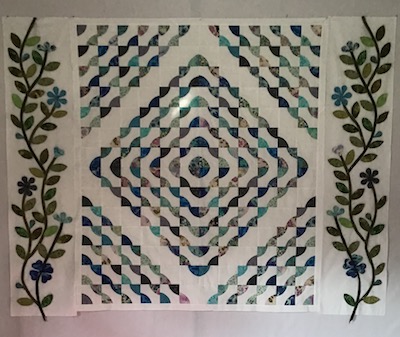 This is how the appliqué looks pinned on design wall next to the curved pieced center.
I'll get all these appliqué pieces stitched down before starting on the top and bottom sections.
Moving on, I did some piecing this week. Seaside, pattern by Jaybird Quilts. This is the first in her Journey 2 Nebula Sew Along.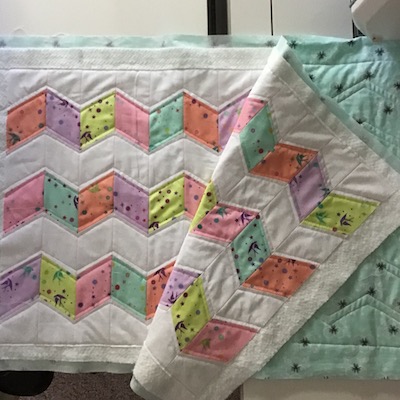 I did simple quilting, 1/4″ echoing of the zigzag piecing.
Tomorrow I'm taking a road trip with my quilt group to Middlebury, IN. Lunch at Essenhaus and shopping at The Quilt Shop. Then on to Clothesline Creations Quilt Shop where I hope to buy fabric to bind Seaside and fabrics for a few of the other projects coming up in Journey 2 Nebula. Penny of Clothesline Creations is one of the quilt shops participating in Jaybird Quilts Nebula BOM that starts in January 2021. She still has kits to claim. Go to her website to take a look.
Last Week's To-Do List:
Prep next several sets of appliqué flowers. ✔️ Prepped and pinned in place.
Maybe cut fabric for appliqué background and start pinning vines, leaves, flowers in place. ✔️ Yes!
Sandwich and quilt Seaside #Journey2Nebula ✔️ Need to buy fabric for binding, I have nothing in my stash that matches. New color way for me!
This Week's To-Do List:
Stitch vine and leaves in place.
Maybe finish prepping flower appliqué pieces.
Cut and stitch Lucky Charms #Journey2Nebula
Linking to To-Do Tuesday hosted by Home Sewn by Us.
Tags: Journey 2 Nebula