The More:  I did hem 3 pairs of pants for a friend. Check that off the list!
And More: I started the quilt on the cover of the book Hearts and More.
Figuring out the piecing for the center of this quilt is my One Monthly Goal for August. The quilt made as designed, all the prints would be fusible appliqué. I'm changing up the center of the quilt by doing the curved pieced blocks.
I've played around with Marti Michell's Drunkard's Path templates and have come up with 3 1/2″ finished blocks.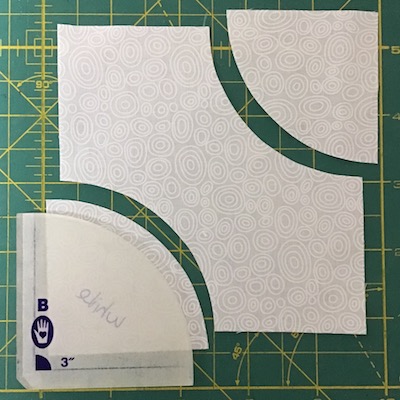 For the background I started with 4 1/2″ squares and used Marti's "B" template to cut off opposite corners.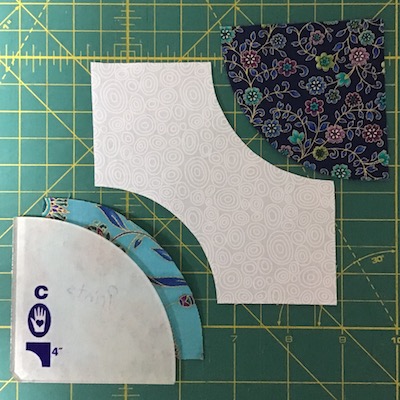 I used Marti's "C" template to cut the prints to be sewn into the corners.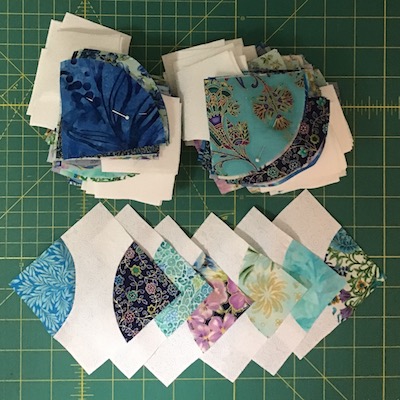 6 units sewn, pressed and trimmed to 4″ square. I only need to stitch up 114 more!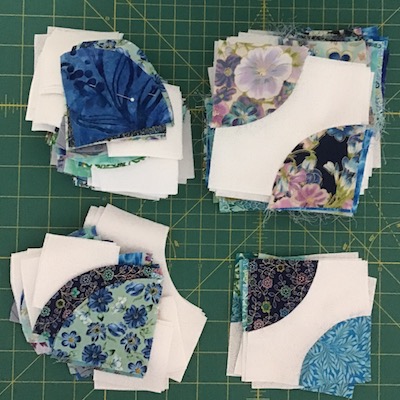 More piecing, and now 74 more to go!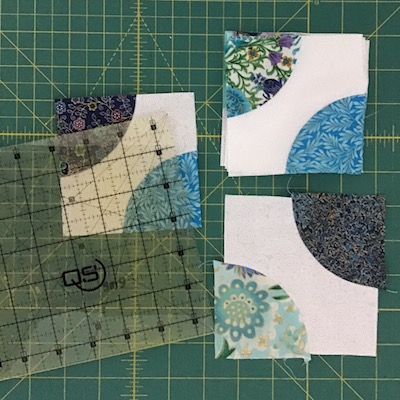 As you can see, I made the pieces oversize so they can easily be trimmed down to 4″ square.
Happily I sew along.
This week I'll continue with the piecing, 74 more! And then lay out the rows for the center of the quilt. Looks like I'll be sticking with this quilt for a while instead of complicating things by working on more than one project at a time!
Last Week's To-Do List:
Hem 3 pairs of pants for a friend. (shhhh! don't tell anyone this quilter knows how to hem pants!)  ✔️ All knit fabrics too. But they are done!
Piece lots of the Drunkard's Path blocks. At least as many as I have time to do.  ✔️ Figured it out, and sewn just over half.
This Week's To-Do List:
Continue piecing curved blocks.
Lay out center of quilt, maybe even sew rows?
I'm linking to To-Do Tuesday Linky Party hosted by Home Sewn by Us.