168 curved pieced blocks makes the center of the quilt I'm currently working on.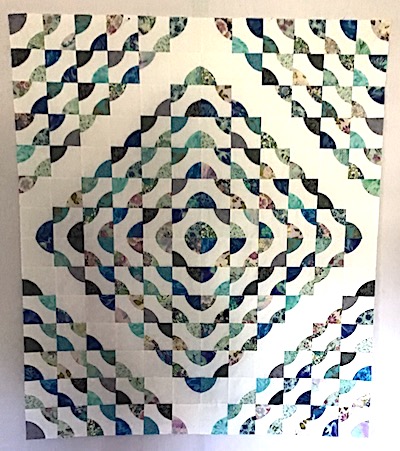 This section of the quilt measures 42 1/2 inches by 49 1/2 inches.
The next step is creating appliqué vines, leaves and flowers to border the center of the quilt.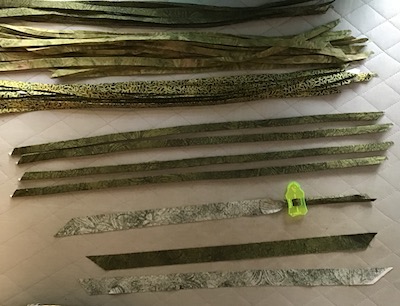 To make the vines I cut 1″ bias strips. Using  Pauline Rogers Sasher tool the strips are pressed making 1/2″ finished bias fold strips. They are ready to pin in place on the back ground fabric.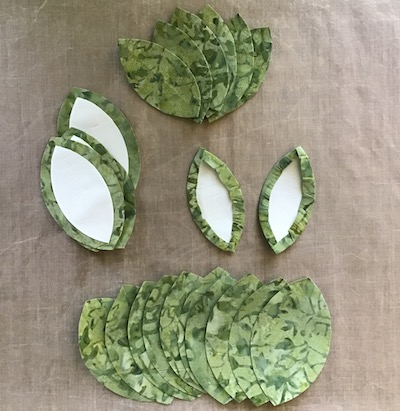 To make the leaves I'm using Sue Pelland's Hearts and More templates. I'm following the instructions for cutting the leaf shapes, page 21 of Heart and More book, but I'm shifting the template just a bit to enlarging the leaf shape by 1/4 inch. Next I'm pressing the edge of the leaf fabric around freezer paper templates also cut using the Hearts and More templates. This will eliminate the raw edges, making turned edge appliqué.
I found that using starch helps with holding the pressed edges in place.  The freezer paper templates are easily removed once the leaf shapes are pressed. Also, the templates can be used multiple times. The pattern calls for 330 leaves. I have 200 cut. I might change that number using   fewer appliqué leaves and adding more flowers.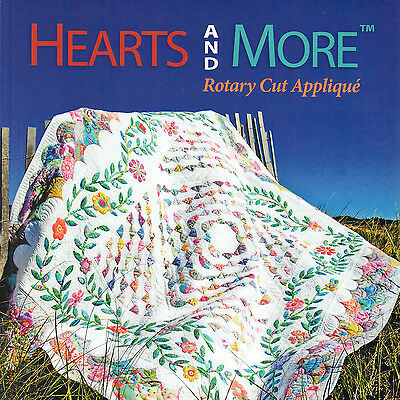 Cover photo of Sue Pelland's book, which is the quilt I'm currently working on.
Last Week's To-Do List:
Finishing piecing rows, above.  ✔️ Completed and moved on to appliqué pieces.
Shop or dig through stash for a back for above quilt. ✗  I didn't find anything in my stash to use, and didn't go shopping.
This Week's To-Do List:
Continue with prepping appliqué leaves, move on to the flowers if I complete the leaves.
I have an order ready to pick up at a LQS, I'll look for backing fabric while there.
Linking to To-Do Tuesday hosted by Home Sewn by Us.