Here's my plan for April. I pulled out an oldie.
I made this quilt as a class sample back in 2014 using the Curve it Up book by Sew Kind of Wonderful. I never quilted it. Back in January 2019 my sister-in-law said she would love another quilt from me. So I showed her some finished tops. She selected this white, blue and yellow Curve it Up top saying it would like nice in her guest bedroom which is painted yellow. She wanted it to fit a queen size bed, so she purchased the marbled yellow for an outer border.
So now you see how far behind I am in finishing this quilt for her! I just keep letting other things hop in front of it. I better stop doing that and get 'er done!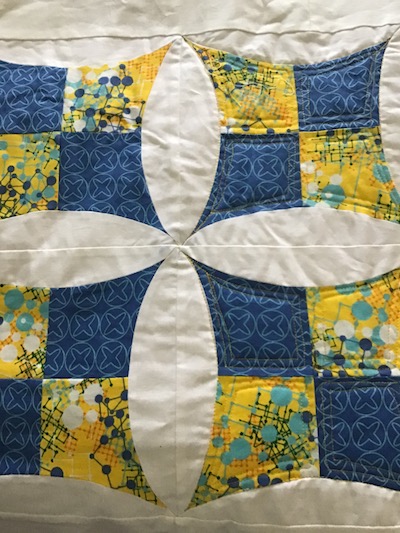 When I pulled the partially quilted top out, I found I have quilted just 3 1/2 blocks. Above is the 4-patch block with only 2 sections quilted. I have a ways to go!
Wish me luck! And creativity for how to quilt each block!
Linking to One Monthly Goal hosted by Patty of Elm Street Quilts.
Tags: One Monthly Goal