This week has been about making masks. I had a request for masks from a gal who has been relocated to the ER to work with people coming in with anxiety and stress. My daughter also wanted masks, as did my two daughter-in-laws. One is a hospice nurse and is only given one N95 mask per week. Plus I made & mailed some to a trucker friend, and of course other family members.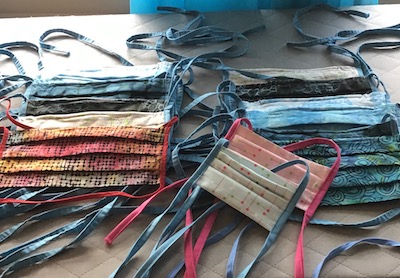 Also made 2 kid size masks. I thought my 5 yr old grand would like a mask for her doctor kit, and then thought 2 yr old might feel left out.
I'm switching to making a few Easter gifts for my grands. I found some adorable tutorials for bunny and chick bags.
Listen to the Birds Sing has this cute Bunny Pouch tutorial
Stitched has a different cute Bunny Bag.
Make It Love It has a fun Chick Bag.
I'm going to make the Bunny Pouch for my granddaughter and the Chick Bag for my grandson. Hubs braved the grocery store and bought some treats that we will put in the bags.
My son and daughter-in-law have done all our grocery shopping for us since the Stay at Home order, so this was a big deal for Hubs to venture out! He wore his mask, wiped down the cart, and sanitized his hands once back in the car. Then once home, shoes stayed at back door, he wiped down all the groceries before I put things away and wiped down the counter, door knobs, etc. His clothes and mask went in the washer, and he took a shower. Over kill? Don't think so, since we have medical ppl in our family who recommend doing all the above.
Since I don't have quilting to share this week, I thought I'd share this find -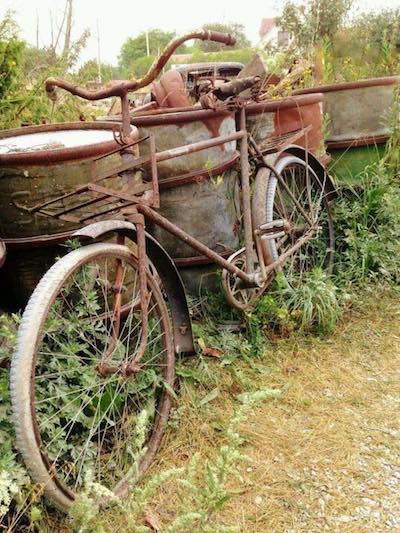 See the old rusty bike? Wow! Does that bring back memories! I have no idea who took this photo, so can't give credit. My Dad had a bike like this, painted red. Do you see the seat over the front tire, and the one over the back tire? My brother would ride on the back. There was another seat welded on the handle bars, that's where I sat! I'll have to ask my brother if he remembers. Can you imagine! No helmets or other safety precautions back in the 50s!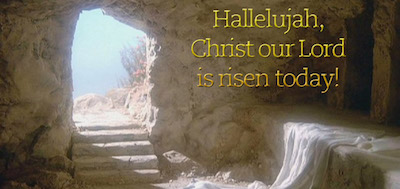 Till next time. Have a Blessed Weekend!
Last To-Do List:
Continue making masks ✔️
Quilt Curve It Up ✗
More sewing room organizing. Maybe books are up next. ✗
This Week's To-Do List:
Finish treat bags for Easter
Quilt Curve It Up – a few blocks
Still have organizing to do in the sewing room!
Linking to To-Do Tuesday hosted by Sewn By Us.