After some cleaning and organizing, my sewing room is looking better, but still has a long way to go. I'll continue working on this throughout the month of April. Hopefully it won't take that long!
Look! You can see the cutting mat now!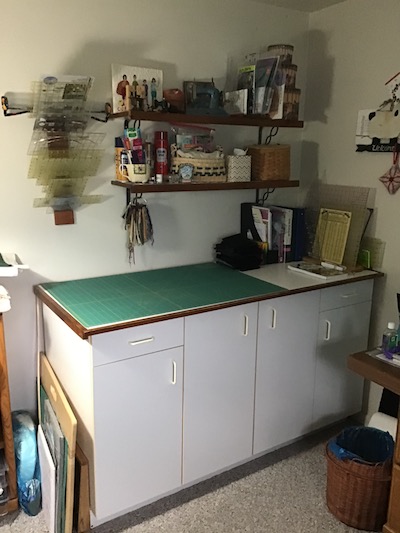 Plus the shelves above the cutting table are cleaned and better organized. And …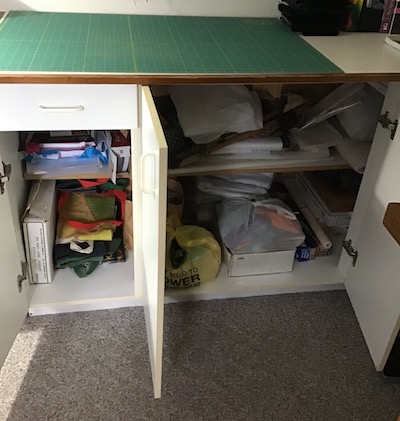 the inside of the cabinet is cleaned out and organized.
Last week one of our local hospitals put together kits for making masks, asking for experienced sewists to volunteer to make the masks. It was announced to pick up the kits between 9am-6pm last Wednesday. Little did they know there would be a line of willing volunteers waiting for 9am. All the kits where claimed by 10:00am! Sadly, I didn't get a kit.
After watching this video and reading this article, I pulled out batiks, and started to make masks from supplies I have on hand.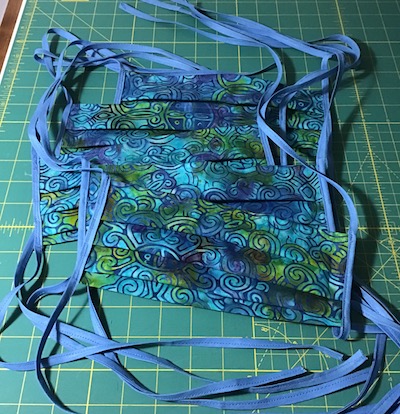 Since Batiks are a tighter weave than quilters cotton, I thought it would be a good choice for the masks. Also, there is a pocket in the back if the person using the mask would like to add filter material into the mask. I used Double Fold Bias Tape for the ties. One package has 4 yards of bias tape, which I cut into 4 – one yard pieces, which is enough for 2 masks. I had enough blue for 6 masks. I used pipe cleaner for the wire nose piece. After constructing the masks, I put them through a gentle washing cycle, and also dried them in the dryer. They held up well, with only  1/8″ shrinkage.
When I stopped by my son's house to give him and his wife each a mask, he told me the CDC announced that they do now recommend everyone to wear masks in the US if leaving your home. The Stay at Home order will be in place until at least April 30th. If you need to grocery shop, etc. you should be wearing a mask to protect others, which will also protect each of us! I'll be making more masks!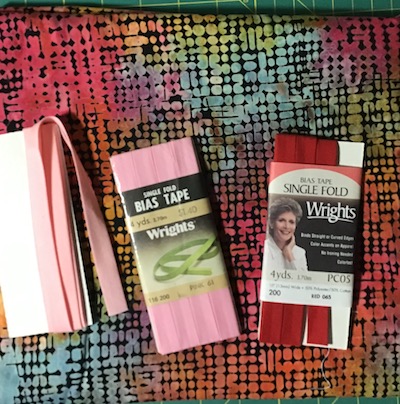 I'm switching to this Batik and red & pink Bias Tape for the next set of masks, using what I have on hand.
Leah Day has a YouTube showing how she is making masks. I changed it up just a bit by sewing wrong sides together eliminating the need to  turn the mask right side out, I'm not using elastic, but simply sewing the bias tape on the sides. Which I figure makes the mask more a one-size-fits-all. I'd hate for the elastic to be too tight or loose on someone. I did use Leah's instructions for sewing in the pipe cleaner nose piece & leaving an opening so a filter can be slipped into the mask. I am going to fold in half a 12″ pipe cleaner for extra strength on the next set of masks instead of cutting the pipe cleaner in to 6″ pieces.
I stopped by my other son's house, his sweet wife is a hospice nurse and is seeing Covid-19 patients. She is issued one N95 mask a week. We talked about tying a homemade mask over her N95, which is another reason why I started making the masks. She liked the fit of the one I made, liked the way the nose piece bends to fit snugly and liked the ties over elastic. I pray the manufacturers can up their supply for the demand on these much needed N95 masks for our medical community serving us during this pandemic. That is just one of my many prayers!
I'll continue sewing masks. My DIL thinks her coworkers will want them also. I said I'll make them but will need more bias tape! Oh, and just incase anyone is worrying about me stopping by my sons homes, I stayed outside, we talked through a screen door at both homes! No one coughed or sneezed!
Stay home people! Wash your hands! Wear a mask if you must go out!
Last To-Do List:
Clean and organize sewing room! ✔️ Progress made!
Select one UFO to work on  ✔️ I pulled out Curve It Up which I started quilting last year. It is a Sew Kind of Wonderful pattern and will go to my sister-in-law when finished.
or make much needed masks (local hospital is putting together kits for making masks and asking for volunteers with sewing experience. I've requested a kit, but not sure how many they have or how many have volunteered. I find out tomorrow, Wednesday.) ✗ Kits went fast, and I didn't get one.
This Week's To-Do List:
Continue making masks
Quilt Curve It Up
More sewing room organizing. Maybe books are up next.
Linking to To-Do Tuesday hosted by Sewn By Us.