Done!
My Goal was to organize my sewing room and get going on found projects. I have now organized my projects into the following categories:
UFO piecing list - 5  listed,  finished 1, down to 4
Tops to quilt – 5 quilts listed
New projects – 7 projects listed
Appliqué projects – 3 listed
Handwork – 2 listed
Customer quilts – 6 quilts listed
Charity quilts – 4 in the making
Maybe I'm crazy as that is a total of 32 projects! It is crazy what I found while organizing. For example, I was looking for the Basket BOM quilt I started ages ago, wondering where I was in the piecing when I walked away from it.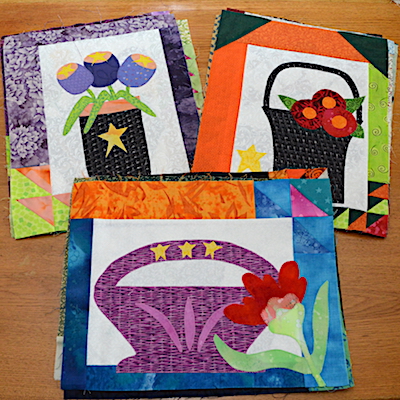 I found it, only 2 blocks needed to be pieced. BUT under those 10 blocks was another BOM that needed only 5 more of 20 blocks to be completed!
I neatly placed projects in clear plastic project boxes, and stacked them together by like kind. My sewing room looks much better. Re: tops to be pieced in boxes stacked together, handwork in boxes stacked together, quilt tops ready to quilted on hangers with fabric for backs, etc.
Once my sewing area was considerably neater, I got busy sewing. First up – I finished the Basket and Blooms quilt top pattern by Joined at the Hip from my UFO list.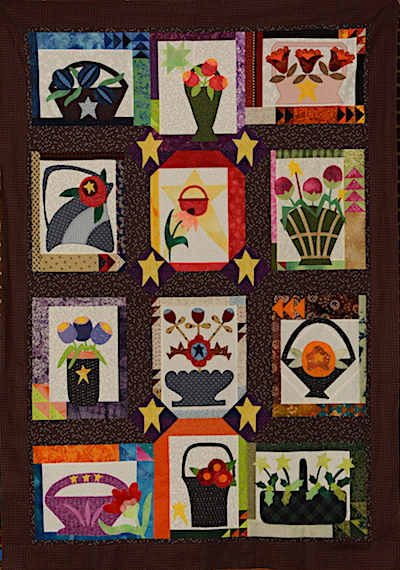 As I was piecing the last 2 blocks and sashing, I noticed I had 2 blocks missing their stars. I added the blue star to the top left basket, and the yellow star to the left of the bottom center basket block. Once the back is pieced, I'll add this to the Tops to Quilt list.
Next, I got going on a machine appliqué table runner from my New Projects list. This was supposed to be a monthly block or runner that my Sassy Quilters Group choice to make this year.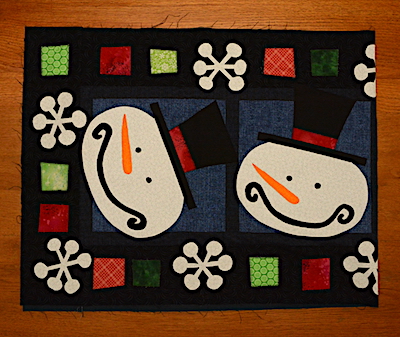 Yikes! I've only started the January block as a pieced & appliqué table runner. I don't know if I'll ever get caught up. Maybe I'll just pick my favorites to work on the rest of the year.
Plus I finished a customer quilt, but then picked up another order. Which is fine as a little cash flow is nice!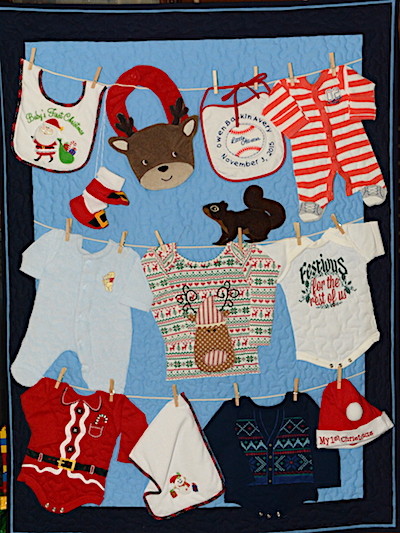 So yea! I'm better organized, and I'm marking things off my lists! And I'm determined to not buy any more new projects for the rest of the year! Let's hope I don't run into any 'squirrels' that grab my attention!
Speaking of squirrels, look at this cutie I created for the baby quilt I just checked off my customer quilt list.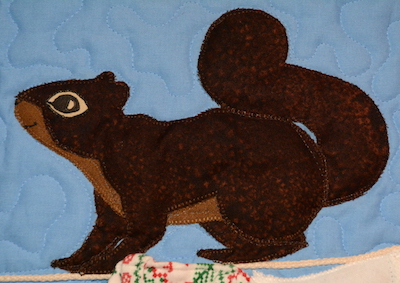 Linking to One Monthly Goal
Tags: One Monthly Goal