One of the gals in my Curvy Quilters Group made each of us an adorable quilty.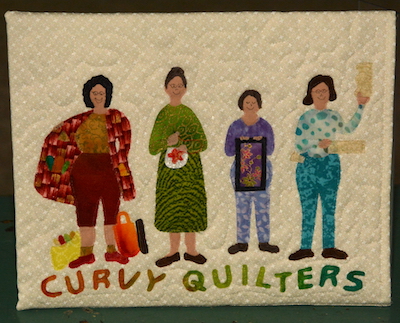 She dressed us each in our favorite color, and gave each of us a "tool" of our trade. Twila is dressed in the reds and is surrounded with fabrics, Pat (the maker of the quilty) is dressed in green doing hand embroidery, Teresa is in purple holding a panel quilt, and I'm in turquoise holding rulers. I just adore this unexpected gift!
The baby clothing quilt is complete.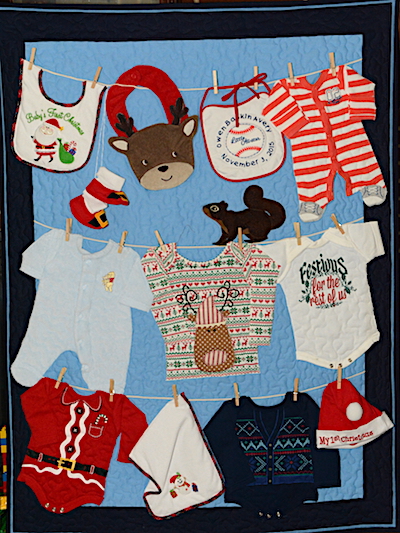 I asked my customer if she would be agreeable to having the clothes hanging from a clothes line. She liked the idea. I suggested adding a cardinal sitting on the line to add interest, since most of the clothes are Christmas theme. She suggested a squirrel, as the baby loved watching them. I am really not a fan of quilts made from baby clothes. To me they are usually just too clutter. I prefer the more traditional t-shirt quilts. These clothing items including bibs, hat, booties, would just not work this time as a t-shirt quilt, plus she didn't want the clothes cut down. I thought a clothesline arrangement would work. She also specified a wallhanging no wider than 36″, not a functional quilt. This quilt is 35″ x 45″. Those are 1 3/4″ wooden clothespins! The baseball bib is actually the label she requested to include a baseball. And … isn't that squirrel just the cutest ever!?
UFO Report!
I finished a quilt top I believe I started in 2000.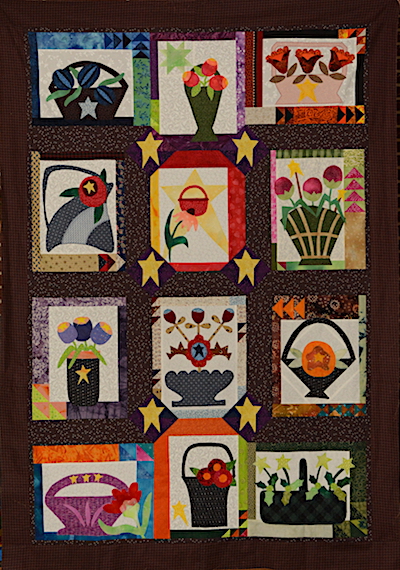 Baskets & Blooms by Joined at the Hip. This was a BOM I found the patterns for on sale at a quilt shop going out of business. I only had 2 blocks of the 12 to complete, when I finally dug it out to see where I was with it's construction. I'm happy with it! Once quilted, I plan to hang it in my living room.
How was your week?
Past to-do list:
Work on granddaughter's quilt  ✔️ DIL decided to take over marking quilting motifs. I'll quilt it once she has completed her drawings. I promise to share photos soon!
To-Do List:
Snowman table runner or
Quilting son's quilt
Linking to To-Do Tuesday.