The ocean theme quilt for little fella is complete with quilting, label and binding.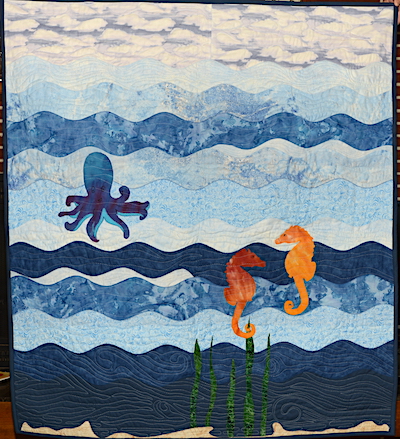 I'm pleased with how this quilt has turned out!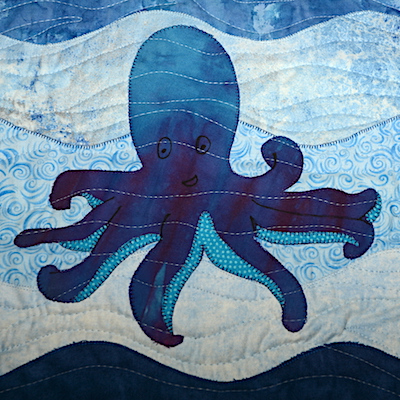 Purple-y Octopus turned out nicely.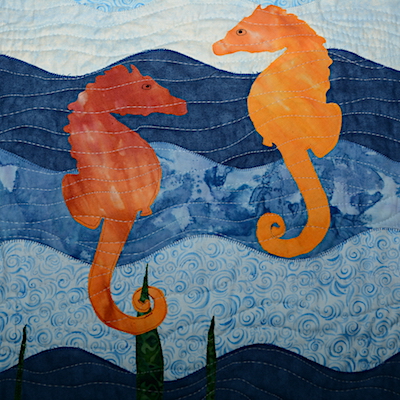 Seahorses are super cute, with the one holding on to the seaweed.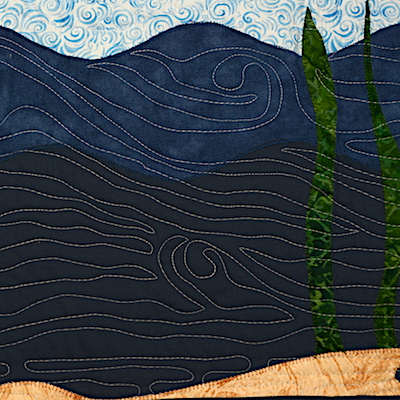 Bits of seaweed and sand are shown in this photo with the swirls and such for the water-y look.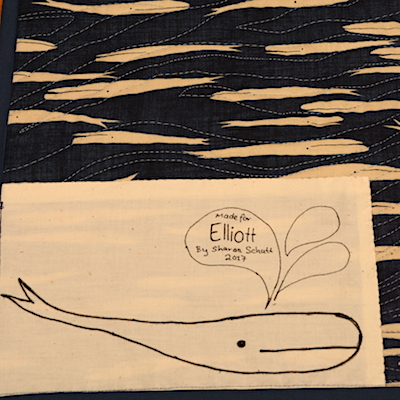 And whales made it onto the back with a whale label too!
The finished quilt measures 41″ x 47″. Fabrics are mostly commercial quilting fabrics with the sea creatures made of hand dyes by Vicki Welsh. I used Aurifil 50 wt for piecing and quilting, Misty Fuse for the appliqué pieces, and Warm & Natural batting. I cut the fabric waves using the Curvalicious ruler/template by Cheryl Lynch. The seahorse appliqué is from Connie Kresin Campbell's Coastal Seahorses pattern.
Progressing on with Chic Country, a Sew Kind of Wonderful quilt pattern.
Finally all the pieces are cut, and I got some sewing in too.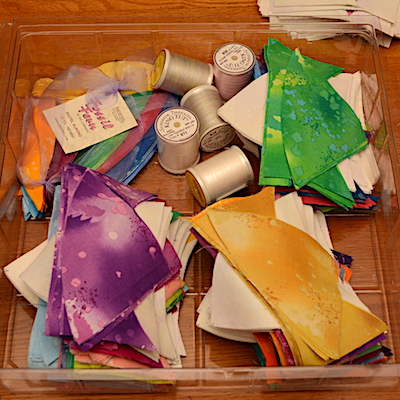 The alternate block pieces are all cut and stacked in a Protect-n-Store box, which is how I organize my WIP.
How did I do on last week's To-Do List?
Keep plugging way on Chic Country. ✔️ Cut fabric for alternative blocks and some sewing too.
Sandwich and quilt ocean baby quilt. ✔️ Finished and ready to mail!
Prep quilt top for quilting, it's for my son and DIL. ✗ Does buying more 505 Spray for basting count?
Get over this bronchitis crud. ✔️ I'm just doing a little coughing when I wake up in the morning, and some in the evening. I'm feeling tons better, but my right ear is still ringing.
To-Do Tuesday List for this week:
Sew sew sew blocks for Chic Country.
Mail Ocean Theme quilt to Elliott.
I'm thinking of asking my friend if I may use her longarm to baste my son's quilt. I'm overwhelmed at the thought of spray basting a queen size quilt.
If you spray baste your quilts, what is the largest quilt you have tackled? Do you have a large flat surface or design wall to use for this method?
I was just visiting Connie's Freemotion by the River blog and I'm SMILING,  she has
featured
my ocean theme quilt – the seahorses – on this week's Linky Tuesday post! Thank you Connie!
Linking to To-Do Tuesday and Linky Tuesday.