Is it really June already? This year is flying by! Happily, I'm completing quilts and checking them off my to-do list each month.
Since I had success in May OMG with quilting and binding a table topper each week, I think I'll continue with quilting table toppers again in June.
But I'll only commit to 3 table toppers this month. I have to allow time for quilt festivals and retreats!
So here they are. All are from a BOM I followed last year. One Block Wonders hosted by Up Stairs Hobby Room.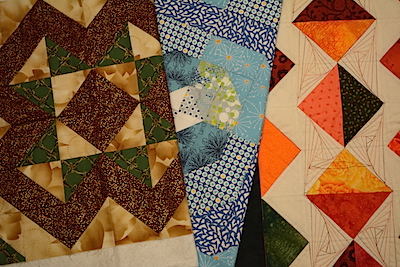 The quilt patterns are: Blessings,  Topographical, and Whispered Dreams.
One is partially quilted, and the other 2 are ready with backs and batting. I even have 2 bindings already prepared.
My goal for June is complete the quilting of the three table toppers. If I have time, I hope to attach the bindings, but I'm  not commenting to that!
Have you set your June OMG? Come play along with us at Elm Street Quilts, One Monthly Goal!
Tags: One Monthly Goal