Baby Monkey quilt under way. Fused Monkeys are ready to be top stitched.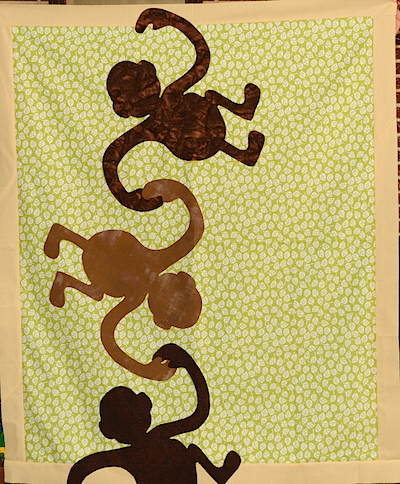 Baby Whale quilt. I purchased these fabrics a while back, but never made the quilt. Does that count as a WIP? A dear young couple we know are expecting their first baby and they are decorating with an Ocean Wildlife theme. So out comes the Whale fabric! The Whale fabric will be the back of the quilt. The blue fabrics will be ocean waves. A Whale will be appliquéd in the waves. I'm not sure what color the whale will be – I'm open to suggestions!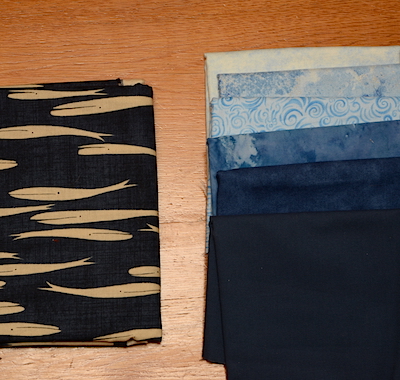 Facets quilt update: I had to recalculate size for yardage as my son would like this quilt for his double bed, not a lap quilt. I cut more dark blue triangles, and also cut the light blue background triangles. I need to buy more of the light blue, or find something close, as I think I bought the end of the bolt at the LQS. I also need to make 4 more improv triangles. I'm taking this project along with me to Thursday's Curvy Quilters sewing day.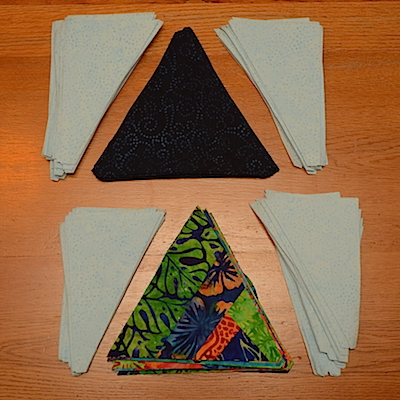 I'm caught up on the In Box Jaunt Spring Quilt-Along, as of Monday night. What fun FMQ motifs!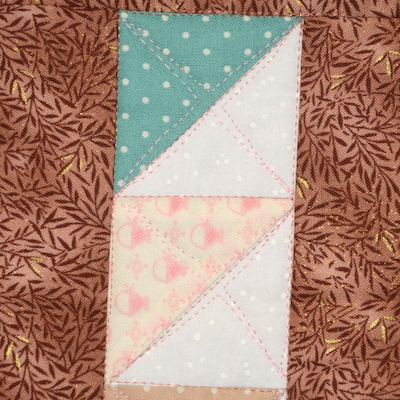 Crosses, above.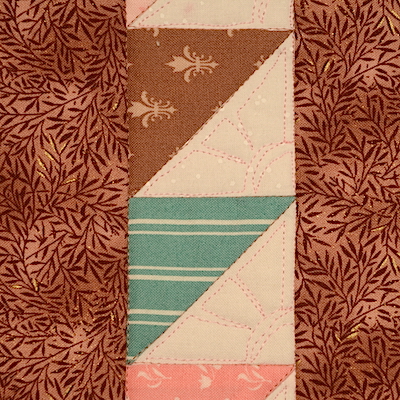 HST Flowers, above.
This table topper is called Blessings, design by One Block Wonders/Upstairs Hobby Room. I'll call it a WIP as I intentionally set it aside to use for practicing FMQ. But now it is a Finished Table Topper!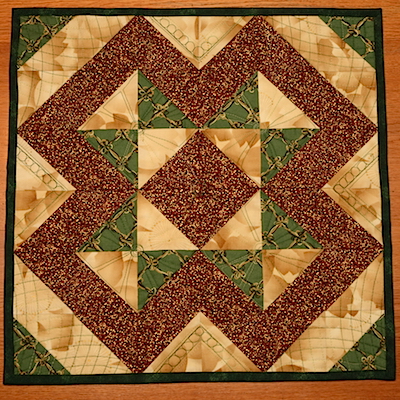 I just finished the quilting and attached the binding today!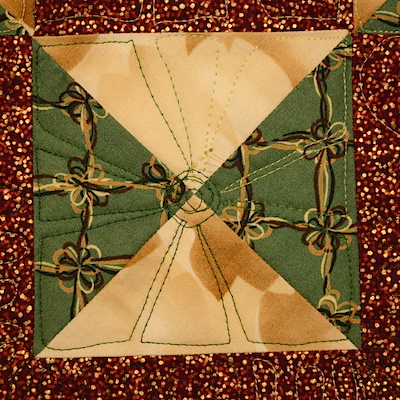 The above flower is similar to HST Flowers (2 photos above). This design I saw on page 31 of Lori Kennedy's new book Free-Motion Machine Quilting 1-2-3.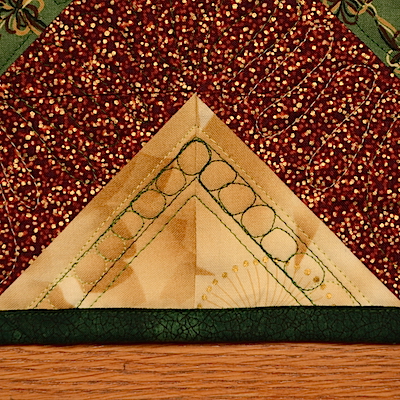 Above, straight line quilting with circles. I used a variegated green/tan Gutermann thread, Color 9994, 50 wt for the top thread. And Superior Threads Bottom Line, Taupe, 60 wt in the bobbin.
I added a few things in this past week, how about you, anything new craft/quilt wise in your life?
How did I do on last week's To-Do List?
Cut background for Facets quilt. ✔️ I cut out all that I could. Need to shop for more fabric.
Continue quilting In Box Jaunt Quilt-Along. I'm falling behind on this one, so hope to catch up. ✔️ All caught up as of Monday night!
To-Do List for this week:
Continue quilting In Box Jaunt Quilt-Along. Next step just presented today!
Piecing Facets quilt.
Stitch around Monkeys
Plan out Whale quilt.