Quilted and bound! Last year while taking part in One Block Wonders BOM sponsored by Sandy of Upstairs Hobby Room, I stitched up Brilliant Cluster her block for July. I love this block! I love the colors! I used some scraps I won from Colorways by Vicki Welsh and also some scrap batiks for piecing.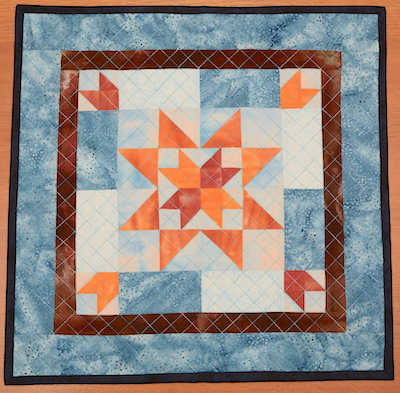 Last week I did a simple diagonal grid quilting design using my Janome walking foot. I used a variegated blue 30 weight Signature for the top thread and Aurifil blue 2805, 50 weight in the bobbin. For binding I used a dark blue left over from another larger quilt. Finishing this quilt makes Part 1 of my 4 part quilting goal checked off my May goal list!
This week I plan to use a clam shell design to quilt this table runner made from a batik strip pack called Tango Treats by Timeless Treasures.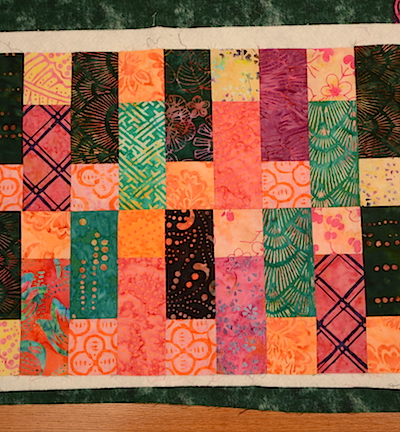 The pattern is call Simply Elegant Table Runner and was included in the strip pack.  Above is just a portion of the quilt.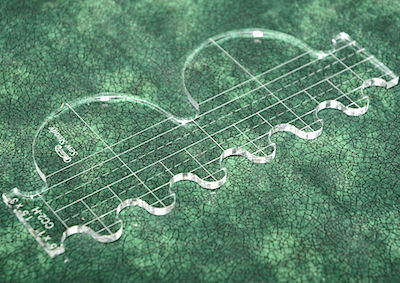 I bought a sampler pack of Westalee Design rulers that includes a clam shell ruler. Time to try it out!
Batiks! I love them! I won a Jelly Roll from Christa Quilts last year while particapating in her Facets Quilt-Along. Now I'm making a second Facets using the Jelly Roll and several yardage pieces.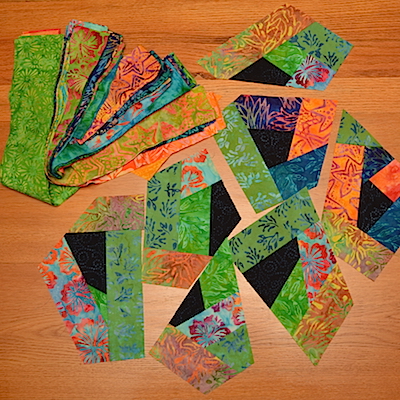 Improv piecing started.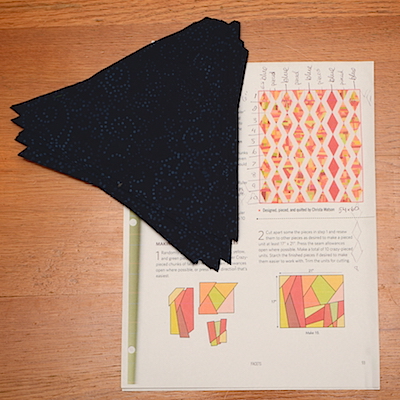 Facets plan worked out above and the blue batik I'll be using in place of the red in the pattern.
I added another Quilt-Along to my project list – even though I had told myself I would not join anymore quilt-alongs this year! But, I am finding the ones geared to improving FMQ too tempting. Lori of The In Box Jaunt is offering a Spring Quilt-Along.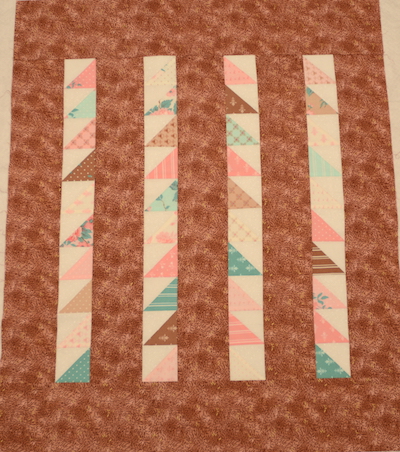 I pieced the above top to use for playing along with Lori's quilt-along.
How about you, are you following any Quilt-Alongs this year?
How did I do on last week's To-Do List?
Work on 'Facets' at Curvy Quilters this Thursday. ✔️ Solid triangles cut, and improve piecing started.
Finish blanket stitching the Fusion squares! ✔️ Finally!
Quilt the One Block Wonders quilt that I pieced last July. This is part of my One Monthly Goal for May. ✔️
This week's To-Do List:
Practice crocheting stitch – next step for Fusion Blanket
Quilt Simply Elegant Table Runner using a Clam Shell design.
Waiting for FMQ step for The In Box Jaunt Quilt-Along.
Sit Down Free Motion Quilters May BOM pattern is up and ready. Time to piece another block.
I'm linking to To-Do Tuesday and Linky Tuesday.
Tags: One Block Wonders BOM