The Grow with Me Monkey quilt is finished and on its way to baby Emmett. Hopefully you can see the quilting in the photo: squiggles in the sashing and meandering in the pieced blocks. I also outlined the monkeys and rings they are holding on to with coordinating thread.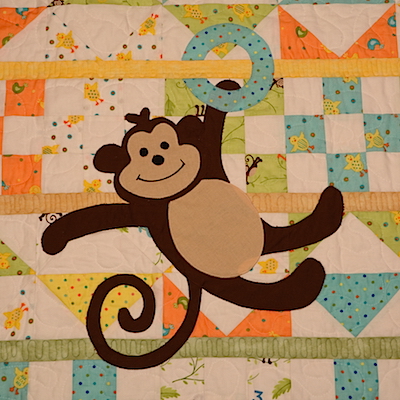 And look a mouth! My son noticed that I had forgotten to add a mouth, I used a black Pigma pen to draw the mouth and then stitched over it with black thread.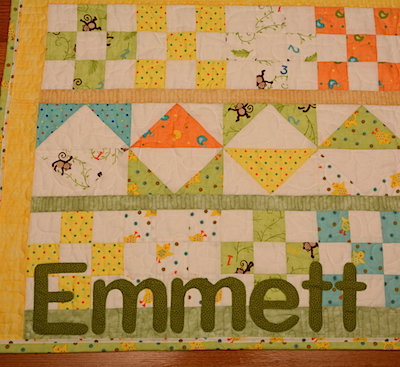 I really like how the name turned out. I completed the quilt with a flange binding, green print for the binding and white print for the flange.
Here is block 10 for the Machine Quilt Block Party.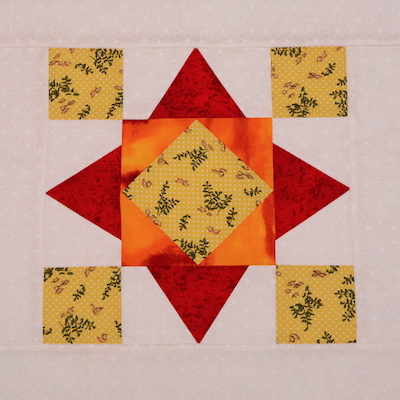 I was a bit brain dead when cutting the sashing. I cut it at 2″ wide instead of 2   1/2″ wide. I was wondering what in the world I did wrong that this month's block was so much smaller than all the rest. Dah! I had some ripping out and recutting to do to accurately complete the block.
I'm also sewing up a Christmas Tree Skirt for my daughter. This week's progress: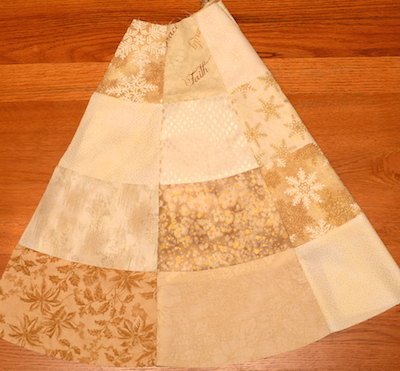 My daughter asked for gold and cream prints. I selected 16 different prints and I sure hope she will be pleased with the outcome! I was hoping to have it sandwiched today, but decided to add another row to enlarge it.
I bought fabric to make pumpkins table runners, but have not gotten to them yet. They were kind of purchased on a whim.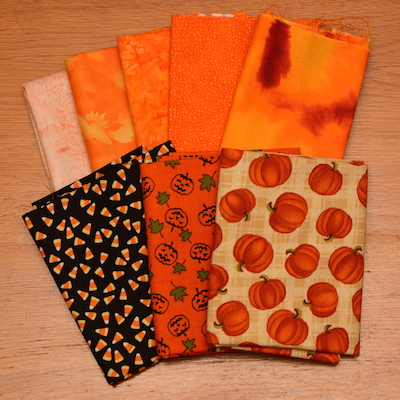 I really have to finish up Christmas gifts before I allow myself to start yet another project. My goal is to complete the Timeless Traditions BOM for a Christmas gift this year. I've been working on for almost 2 years. Egads!  And of course the Christmas Tree Skirt, which I'd like to complete by Thanksgiving. Maybe I'll get to the pumpkins and they can be Thanksgiving decorations – maybe!
Are you working on any Holiday quilting?
How did I do on last week's To-Do Tuesday List?
FMQ and bind baby quilt.✔️ Quilted, bound, and delivered!
Select fabrics & sew Oct Machine Quilt Block Party block.✔️ Pieced.
Christmas tree skirt.✔️In progress.
To-Do List Tuesday for this week:
Mark and quilt block for Oct Machine Quilt Block Party.
Complete Christmas tree skirt, sandwich and quilt
Linky parties! To-Do Tuesday and Linky Tuesday