One of my goals for this past week was appliquéing 3 monkeys on top of a pieced baby quilt. I'm happy to say I got those completed.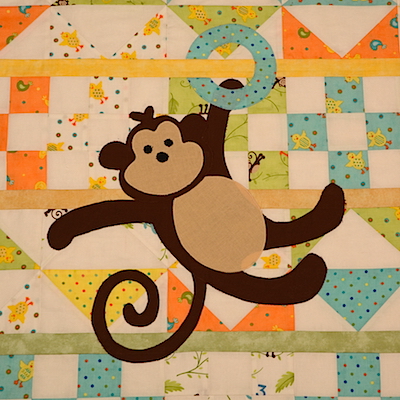 Or so I thought! Do you see what is missing!? The mouth! My son noticed it while taking pictures for me and pointed it out!
I also appliquéd the baby's name on to the quilt.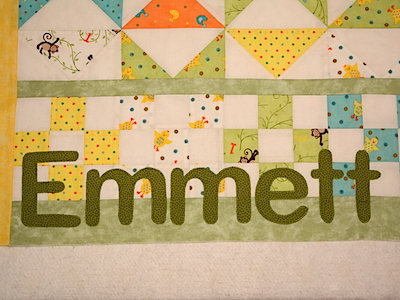 I was just about to sandwich the quilt when I remembered I needed to add the baby's name! I used the font Arial Rounded at 425 points for the lettering (but I took the little curl off the bottom of the 't'.) Where was my brain while working on this project? No monkey mouths and almost no baby name! I'll go back and add the mouths to the three monkeys. Then I'll finally be ready for some FMQ.
Thursday, I hosted my quilting group. At which time I stitched up the last 4 pieced blocks for the Timeless Tradition BOM. I'm using fabrics from my stash and making it very scrappy. Each month there are two 6″ blocks and one 12″ block to make. But there was an extra 12″ block this month, so I decided to use yet another set of fabrics for it. I think this last block is my favorite, the cream, red and green block. I like how the pieces are intertwining around the center square.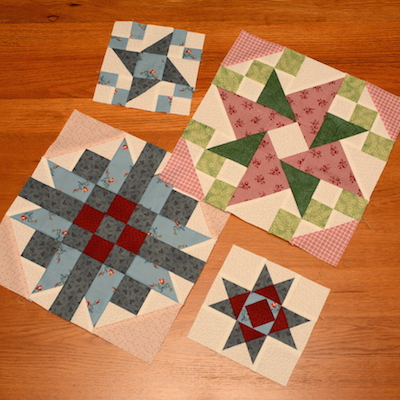 There are 4 appliqué blocks to make for the Timeless Tradition BOM. Then the setting triangles. I'd love to have this quilt completed in time for Christmas, it will be interesting to see how fitting it in goes with everything else I'd like to accomplish.
Last Christmas my daughter asked if I would make a Christmas tree skirt for 2016. Of course I said yes! I inquired as to what style she was picturing and also what colors. We looked at lots of patterns on line, and I dug out a few I already owned. She selected Tula Pink's Moxie pattern that IS NOT a tree skirt, but should work well with some modifications.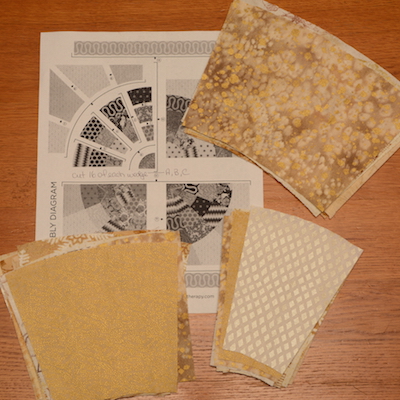 I was lucky in that a local quilt shop had their Christmas fabrics 50% off between Christmas last year and New Year's Day. Only thing was that I had to buy one yard pieces. The pattern calls for fat quarters, so I have enough fabric to make 4 tree skirts! I'm making 2, and will figure out another project with the rest of the fabrics. My daughter selected golds and cream prints for the skirt. This past week I cut out the fabric and my plan is to have it finished by Thanksgiving. That way she will have it for decorating this upcoming Holiday Season.
How did I do on last week's To-Do Tuesday List?
Appliqué monkeys on to baby quilt. ✔️
Sandwich baby quilt and begin FMQ. ✔️ oops! add those mouths then FMQ.
Select fabric and piece next set of Timeless Tradition BOM. ✔️
Select fabrics for Oct Machine Quilt Block Party block. ✗ Nope, didn't get to that.
Tuesday To-Do List for this week:
FMQ and bind baby quilt.
Select fabrics & sew Oct Machine Quilt Block Party block.
Christmas tree skirt.
I'm linking to To-Do Tuesday List and Linky Tuesday.
Tags: Timeless Tradition BOM