Look what came in the mail today!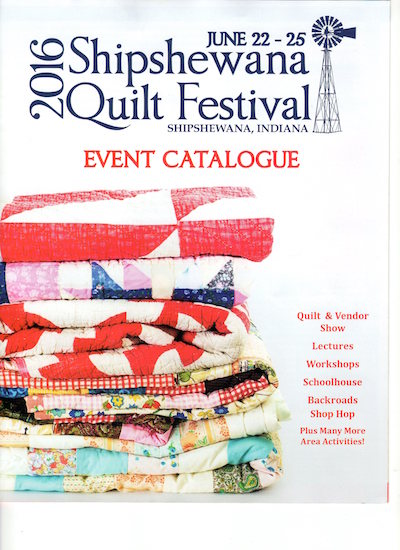 My friends and I were just talking about this festival today at our Curvy Quilters Group! One of the gals left early, and called saying the Shipshewanna Quilt Festival Catalogue was in her mailbox when she got home! Our hostess for the day then ran out to her mailbox, and there was her catalogue! She happily read the list of teachers, classes, and workshops to us. We are looking forward to attending!
Do you have a favorite Quilt Show to attend in your summer plans?
How did I do on last week's To-Do List?
Piecing One Block Wonders January quilt –  Nope, didn't happen, but I did pick out fabrics.
Mark and quilt first block of the Machine Quilting Block Party ✔️ FMQ almost complete!
Decide on fabric for the Facets Quilt ✔️ Fabrics selected and I even started cutting pieces.
Start prepping t-shirts for next customer quilt – Nope, but I did go shopping for sashing fabrics.
Tuesday, Jan 26, Curvy Quilters Group, pick a WIP to take to work on. ✔️Had a great time with my group today!
This week's To-Do List:
GOT to get to the January One Block Wonders, deadline Friday!
Finish FMQ Machine Quilting Block Party January Block
Prep those t-shirts!
Linking to Linky Tuesday and To-Do Tuesday.
Tags: Linky Tuesday, Quilt Shows, To-Do Tuesday