Oh my! I'm so late it is embarrassing! My intention was to make quilts for my nephews and nieces as they had their babies. And even though I have started several quilts with the plan of presenting the quilt to the parents while their baby was still a newborn – I am, oh, let's say up to 3 years behind on some of these quilts! But with another wave of babies due, including my first grand baby! I'm making an effort at finishing up 9 quilts in the next 3 weeks! One is complete, and 4 tops are ready to sandwich, and one top is in progress. Another one is planned with fabric ready to be cut. I have 2 more on the drawing board, does that leave me only one short? Hope so!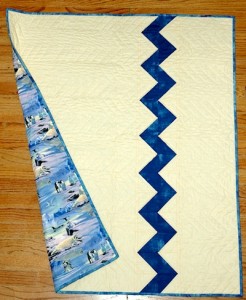 I've decided to go with simple pieced tops to get 'em done! I'm using what I think will be theme fabric that the family will understand why I put it in their baby's quilt. The zigzag here is my new favorite 'solid' – Grunge by Moda. Polar bears and penguins on the back.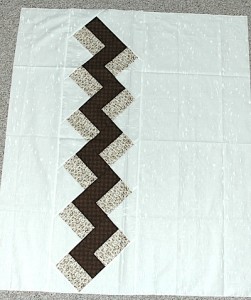 The back for this top will be a different polar bear print.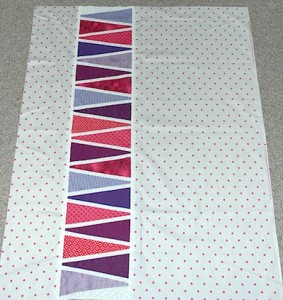 Simple wedge piecing using a variety of purple and pinks from my stash to coordinate with Alexander Henry Just Hanging print for the back. I'll show the backs to the quilts once quilted.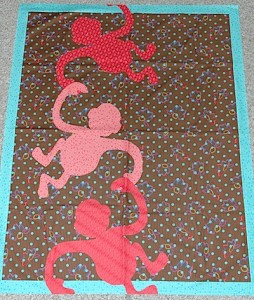 This is the oldest quilt top that for some reason just got lost in the shuffle and the baby is (gasp) now three!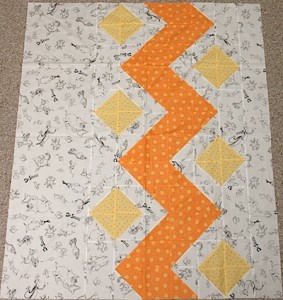 Another quilt top that lost its way and will soon be going to a 2 year old grand-niece.
I've been listening to Stephanie over at Modern Sewciety while sewing. Have you listened to any of her podcasts? I'm really enjoying them!
I'm linking to Connie's Linky Tuesday over at Freemotion by the River. Lots of gals are linking up! Go check them out!
Tags: Linky Tuesday