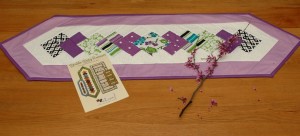 Just a little bit of playing with "Quilt As You Go" using Double Duty Runners Pattern by G. E. Designs. The "Quilt As You Go" technique will be a demo this Saturday at Fabrics and Friends Quilt Shop, Roanoke, IN. Kits available for purchase.
I'm linking to To-Do Tuesday and Linky Tuesday
This past week I planned to:
-hem three bridesmaids dresses✔
-shop for and purchase a dress for me to wear to the wedding✔
-work on the veil for my daughter ✕
This coming week I must:
-get that veil made for my daughter!
-clean house – mainly sewing room to turn it back into a guest room
If I get these two items completed, it will be a good week.
-Oh! another thing to add. Longarm quilter just called and said my client's quilt is ready. That means I have a quilt to bind this week.
Tags: Fabrics and Friends Quilt Shoppe, Linky Tuesday, To-Do Tuesday