It's finished! That is, the top of the Pineapple Quilt using Cut Loose Tropical Fruit Pattern and Creative Grids Pineapple Trim Tool is finished. And on its way to the longarm quilter, Paula Reuille. I have to say I really love this quilt. It is my first ever Pineapple quilt, and I admit, I was leery of the trim tool/ruler before I started using it. That all changed as I worked on the quilt blocks, the instructions and method just all clicked as the quilt blocks progressed.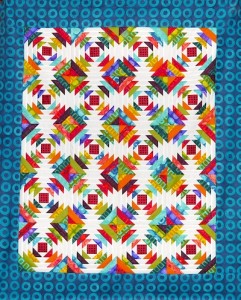 When I added the white logs, I used the white lines on the ruler to trim. When I added the bright/dark logs, I used the dark lines on the ruler to trim. The blocks came together very accurately. The ruler is very well designed. Just how do these gals come up with these rulers? They must all have math minds!
-continue working on client's quilt – last week I designed the embroidery label, this week sew blocks together
-work on Savvy quilt
-celebrate birthdays! My hubby today! Mine on Friday! ☺
Have a great week gals!
Tags: Linky Tuesday, To-Do Tuesday