… And a new-to-me tool. The Creative Grids Pineapple Trim Tool.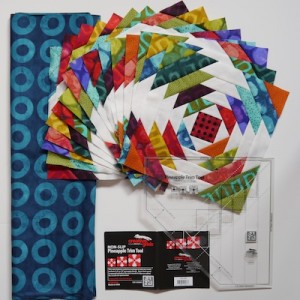 20 blocks made, border fabric, Pineapple Trim Tool.
I used Andover Fabric Line Kim's Hand Dyes, filling them out with some dot fabrics for 14 colorful fabrics. I used Moda white muslin for the background and will use Moda Simple Marks for the border. The bright colorful fabrics make me happy!
I will be demoing this tool Saturday, March 1st at Fabrics and Friends Quilt Shop, Roanoke, IN. Shop hours 10 -3.
Linking to Freemotion by the River Linky Tuesday
and to To-Do Tuesday Link up Here is my list for this week:
Finish and photo Pineapple Quilt
Work on client clothing quilt
Catch up with Building Block Quilt Along
Tags: Creative Grid Rulers, Fabrics and Friends Quilt Shoppe, Linky Tuesday, To-Do Tuesday