These pretties are heading to Lenna for her Row House Swap. When I first read about the house swap, for some reason beeskeeps/beehives popped into my head. After all, a hive is a house for bees, right? I shot off a note to Lenna to ask what she thought and she replied in a general email to all participants saying, "Sharon asked, "Do the houses have to be the shape of a conventional house? For example, I'm thinking a beeskeep is a "house." Any size or shape as long in the range of 1- 3 ½" wide and 2-5" high, including the roof are the rules, so I think that could work, Sharon!"
I know that these houses may not be what the other ladies are expecting. but I do hope they will like them as much as I enjoyed creating them! The base for the house is a chipboard Christmas tag which I painted with gesso and craft paints. Then I added torn paper to give the woven basket shape to the hive and embellished with bees and stamping.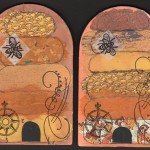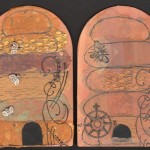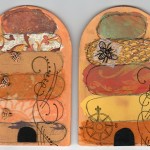 And here is a picture of the back of two houses. I made six, so Lenna can have one. Thank you Lenna for another wonderful swap!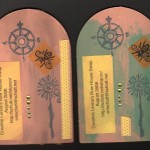 Tags: Swaps