Welcome December! Oh how quickly this month fills up with lots of holiday extras! I was slow going this past week on quilting as I filled up time with some fun outings with friends and family. My son's house was part of a Holiday Tour, 10 houses in a historic neighborhood in our town. I did the neighborhood walk and tour with two friends and we even took a horse drawn carriage ride. Next up was taking our grands to the Botanical Gardens to enjoy the Christmas decorations.
Our ladies group at church put together these Reindeer bags as gifts for teachers.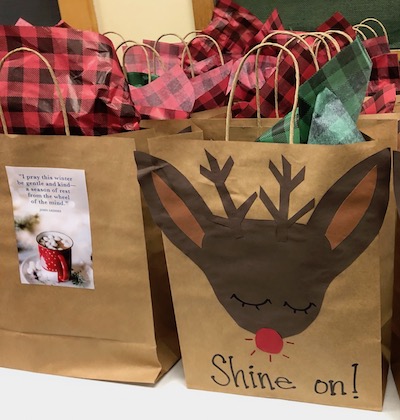 The bags are filled with treats, encouraging words, quilted mug rug, and gift card for coffee/tea.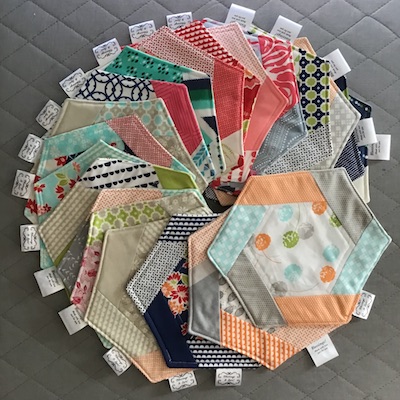 We made 42 mug rugs or coasters, if you like, for 42 bags gifted to elementary school teachers.
To-Do Tuesday, November 29, 2022
Continue Homage to Grandmother's Flower Garden. ✔️
Decide on a few little gifts for a few friends.  Not decided yet, store bought or handmade. ✔️
Quilt & bind one charity quilt. ✗
This week I didn't get much accomplished in my quilting world.
1. Homage to Grandmother's Flower Garden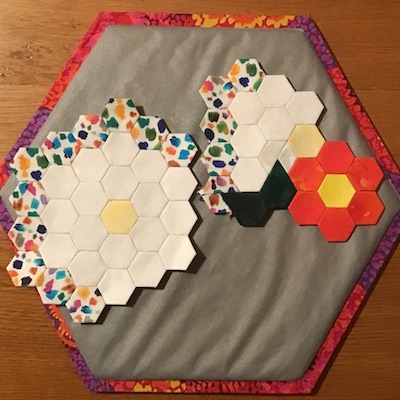 Week 35 is stitched up and I've started to attach it to the quilt. But no photo.
2. Gifts for friends. I decided on buying a few little sewing notions for several friends, and travels mugs for a few others.
3. I did touch a charity quilt this week. But I did start a Squirrel. I knew it was coming – Helen Godden's Countdown to Christmas. I was thinking of passing on it this year, but decided I'd be mad at myself if I didn't jump in.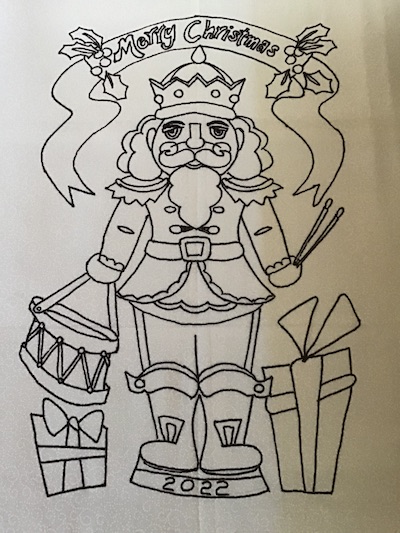 If you follow the link above, you can download this free Christmas Countdown. This year we are FMQ a Nutcracker.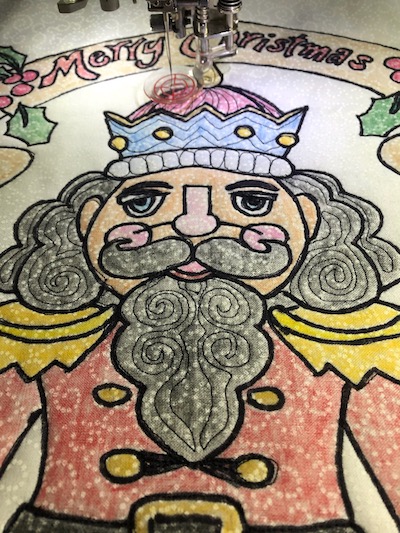 I used Crayola Crayons to color in my Nutcracker. Each day Helen demonstrates FMQ in one of the small areas of the drawing. This is a December 1st – 25th countdown and is rather low key once you have traced the Nutcracker on fabric, sandwich, and stitch on all the drawn lines. Then the fun begins of a small fill each day.
To-Do Tuesday, December 6, 2022
Hopefully make progress on Homage to Grandmother's Flower Garden.
Now that I have a Christmas Countdown going – keep up with it!
?? I'd like to say work on a charity quilt, but I don't know if I'll get to it.
Merry Christmas & Happy Holidays Friends!
Linking to To-Do Tuesday hosted by Linda of Texas Quilt Gal.