Decisions need to be made. After prepping 228 5″ Clam Shells and then pulling out the fabric they are to go on – I find I don't have enough fabric. Grrr. I have enough to piece two sides of the quilt using 2 white prints already used in the quilt. So, buy all new fabric for the four sides, or piece and still have to buy new fabric for remaining two sides?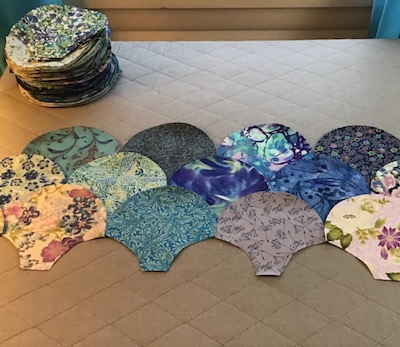 While the Clam Shells sit, I ponder this situation. I'm making no progress on the quilt. There is a sale coming up in February – do I wait or just buy now? And before I quilt this last border, I need to purchase more backing fabric.
A trip to a quilt shop is definitely in my future!
Here is the pillow I made for my grandson that met the challenge in Project Quilting 12:2 last week.
Read all about it here.
Last Week's To-Do List:
Clam Shells!  ✔️ 228 Clam Shells prepped
Maybe create a Fussy Cut truck pillow for my grandson – Project Quilting 12:2 Challenge.  ✔️ No maybe about it! Completed a cute pillow with back pocket to hold a book.
This Week's To-Do List:
Shop for fabric?
Start layout and stitching Clam Shells in place
Linking to To-Do Tuesday hosted by Home Sewn by Us