First up, Journey 2 Nebula Quilt Along.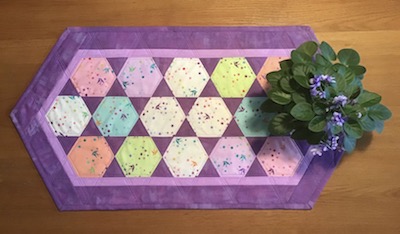 Candy Dish quilted and bound, project 5 in Jaybird Quilts quilt along.
This week we start project 6, Gazebo, in the quilt along.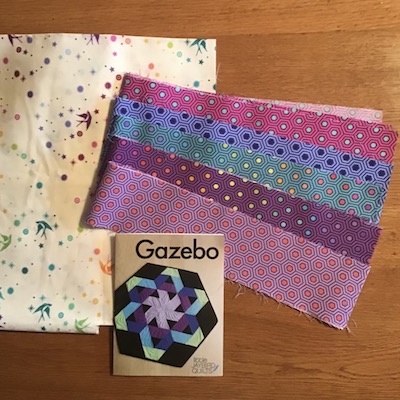 I selected Tula Pink fabrics for Gazebo and need to cut and piece the top.
Next, I figured out a bit of curved quilting for the center of the quilt I'm making for my son and DIL.
I did little arches in the print pieces of the blocks. The white background needs something, not sure yet. I don't want this to be heavily quilted as I want it soft for using on their bed.
For the appliqué sections of the quilt I outlined the appliqué,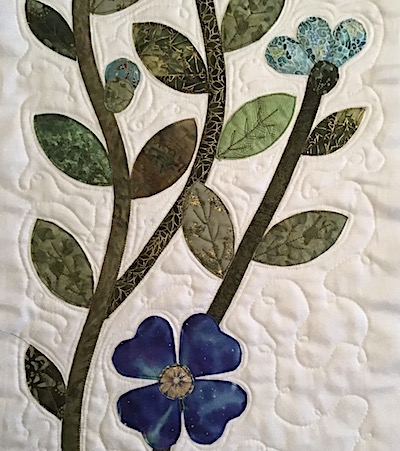 and then added meandering with little loops. I'm not totally pleased with this, but hope it all pulls together with the other sections once completed. I need more practice for smooth quilting.
I added an unexpected project to my list for November. Last week I saw Helen Godden offered a second Flower Power quilt along and I could not resist! The QAL started Sunday, November 8th.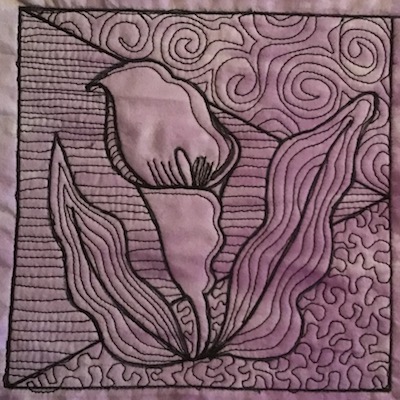 Here is my first block, Arum Lily. My finished blocks will be 7″ square. I'm quilting on Vicki Welsh hand dyed fabrics using Mettler black thread.
Below is the quilt I made back in April from Helen Godden's first Flower Power quilt along.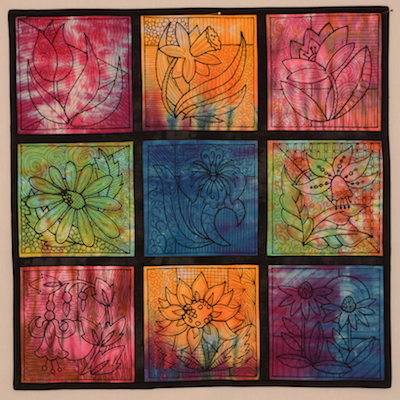 It was fun, and I got to play with many free motion quilting motifs. I do need practice, so I jumped in on the new Flower Power 2 quilt along.
Last Week's To-Do List:
Quilt & bind Candy Dish, project 5 in #journey2nebula ✔️
Quilting center section of quilt for my son & DIL ✔️ Center & one side.
This Week's To-Do List:
Cut & piece Gazebo, project 6 in #journey2nebula.
Continue quilting on son's quilt.
Follow along on Flower Power 2 quilt along.
Linking to To-Do Tuesday hosted by Homesewn by Us.
Tags: #journey2nebula, Flower Power 2