I'm still moving along on the appliqué pieces for the quilt I'm making for my son and his bride.
This past week I made flower centers.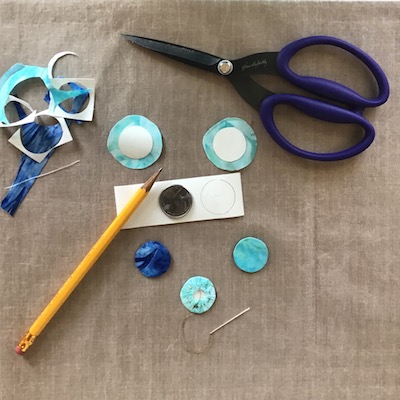 To make the circles I made freezer paper templates. I layered three pieces of freezer paper adhering them together with a hot iron. Then I traced a quarter on to the freezer paper, and cut out the circles. Adhered the circle templates to wrong side of fabric. Cut around the circle templates with a generous 1/4″ seam allowance. Using thread and needle, hand baste around the circle in the seam allowance. Pull the thread and it wraps around the freezer paper. Next I added some starch to the edges and pressed with hot iron giving me a nice fabric circle for the center of the flowers on the quilt. The freezer paper templates pop out leaving a nice fabric circle. Template can be used multiple times!
Plus I moved along in stitching the leaves in place, I switched from free motion quilting to using a walking foot.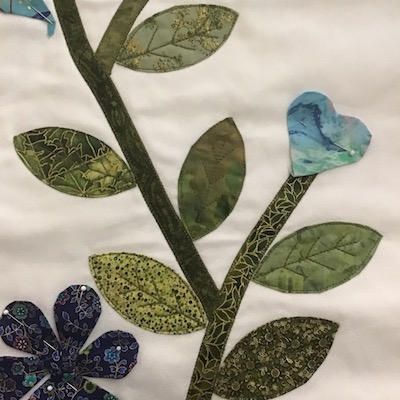 I'm happier with the results. I stitched along the edges and then stitched veins in the leaves. Next up will be stitching flowers and buds in place.
Journey 2 Nebula, second project completed!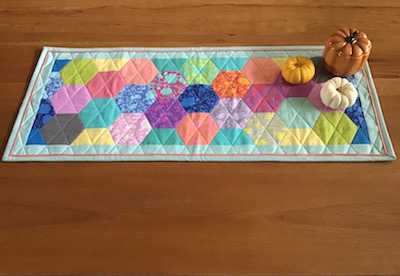 Lucky Charms, I made as a table runner instead of a pillow. Flange binding. Pattern by Jaybird Quilts.
A new project popped in this week. My granddaughter wants to learn to sew. We selected fabric to make a pocket organizer for her room.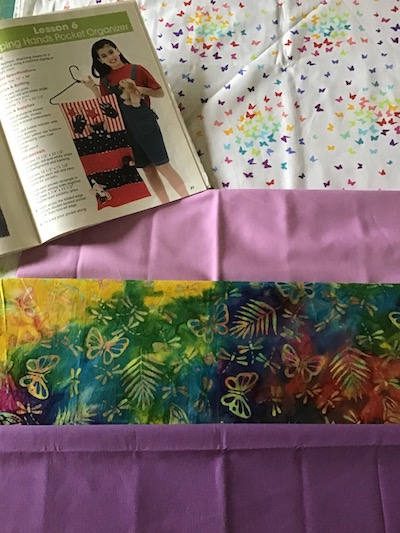 She loves pinks and purples. Can you tell!?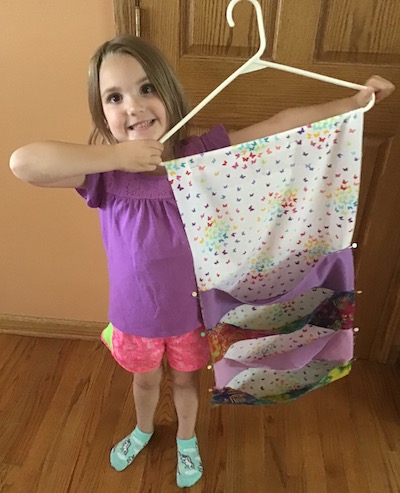 The pocket organizer is going together faster than I thought it would! She sat on my lap at my sewing machine, so she could carefully sew the fabrics together. She learned placement of her hands to keep her fingers away from the needle. She loved pushing the button to cut the threads at the end of the seams, and figured out the knee lift to control the presser foot!  Here she is proudly showing family the beginning of her pocket organizer.
That's progress on three projects this week. Rain is predicted for most of this week, so it should be a good week for more sewing.
Last Week's To-Do List:
Finish stitching leaves in place. ✔️ Slow going but completed!
Prep flower centers, hope to start stitching flowers in place. ✔️Flower centers and buds made.
Quilt & bind Lucky Charms #Journey2Nebula. ✔️
This Week's To-Do List:
Stitch appliqué flowers in place.
Prep Jawbreaker third project in #Journey2Nebula.
Lesson 2 with granddaughter, Pocket Organizer.
Linking to To-Do Tuesday hosted by Home Sewn By Us.