For this week's challenge, using the Birds in the Air block, my mind went to the Beatles song Blackbird.
Here's my interpretation -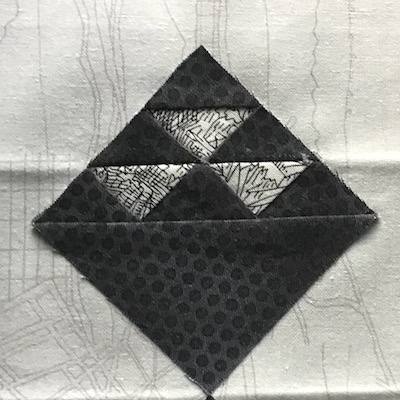 First up, I found a 6″ finished paper pieced Birds in the Air block with a tutorial on Wombat Quilts. I decreased the size of the pattern to 2 1/2″.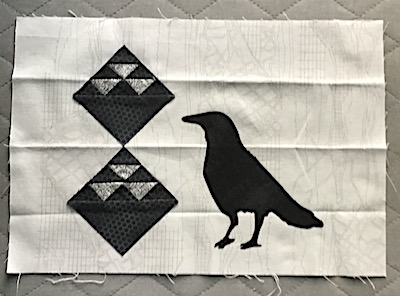 After piecing two blocks, I fused them using Misty Fuse along with a blackbird to background fabric. I blanket stitched around the blocks. After sandwiching the quilt, I outlined stitched around the bird.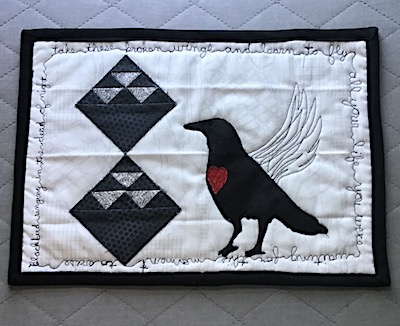 Then I stitched in wings to represent them broken and needing to heal. I fused and stitched around the heart, and then free motion stitched the words to Blackbird by the Beatles around the edge of the quilt. This is Black History month here in the USA. Paul McCartney said he wrote the song in 1960s, after hearing about the civil unrest in the US.
"Blackbird"
Blackbird singing in the dead of night
Take these broken wings and learn to fly
All your life
You were only waiting for this moment to arise
Blackbird singing in the dead of night
Take these sunken eyes and learn to see
All your life
You were only waiting for this moment to be free
Black bird fly, black bird fly
Into the light of the dark black night
Black bird fly, black bird fly
Into the light of the dark black night
Blackbird singing in the dead of night
Take these broken wings and learn to fly
All your life
You were only waiting for this moment to arise
You were only waiting for this moment to arise
You were only waiting for this moment to arise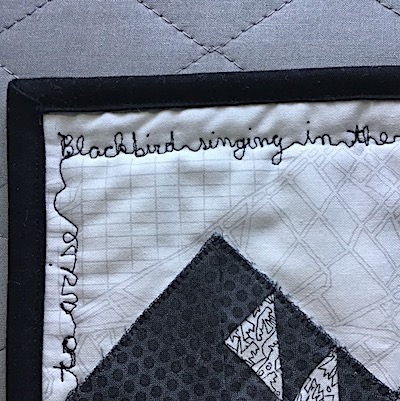 Quilt is bound in black. Quilt measures 12 1/2″ x 8 3/4″