After two Thursday quilting days being canceled due to weather, this past Thursday we did finally meet. I took along Bat Moon Rising and got it to this point -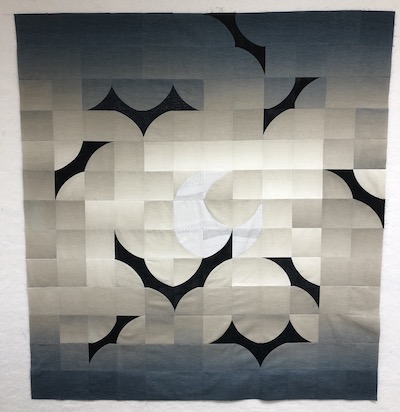 I thought the top was complete. But then I got to thinking that the binding might interfere with the two bats that are along the edge of the quilt. I referred back to the pattern, and there is a small 2″ border. I got busy cutting 2″ x 4″ rectangles to match the ombre flow for the outer border. Yes, I'm going to have a narrow 1 1/2″ finished border instead of a 2″ border.
Now that I'm looking at the photo, I'm not liking the row of light squares above the moon. Hmmm. There might be more ripping out to replace them a shade darker. (Borders are on, sorry no photo, light is all wrong tonight.)
I jumped in and participated in Project Quilting Season 11 Challenge 4 this past week. The challenge was to use the block Birds in the Air in a quilt. Here's my finish entry -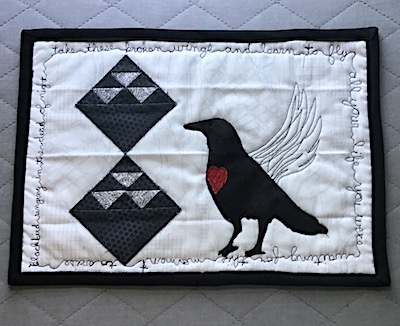 Read about it here. Next Sunday at noon central time the 5th challenge will be announced.
I won a pattern and charm pack through Living Water Quilter's blog hop to promote her new pattern! Isn't it pretty?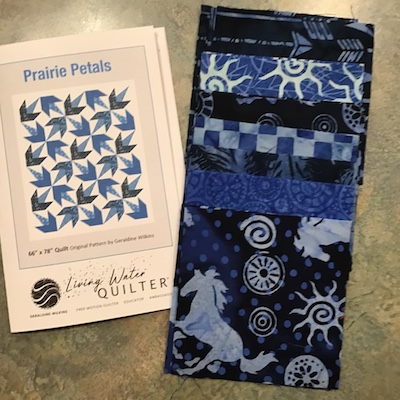 My name was drawn from Heart Sing Handmade blog. The charm pack is from Island Batiks.
Last To-Do List:
Bats! Maybe this Thursday's sewing day will not be canceled. That's when I plan on working on this quilt. ✔️Top done!
Happy Little Things is my OMG - finish it and post before deadline Saturday, Feb 29th!
Project Quilting  11:4 Challenge - finish before deadline noon Sunday, Feb 23. ✔️ Created and linked.
This week's To-Do List:
Final week to complete my OMG! Happy Little Things is pieced, now to quilt and bind.
Sandwich Bat Moon Rising.
Linking to To-do Tuesday hosted by Home Sewn by Us.