Thanksgiving Day our town holds the Galloping Gobbler 4 mile race. This is my second year to participate with my kids and their spouses.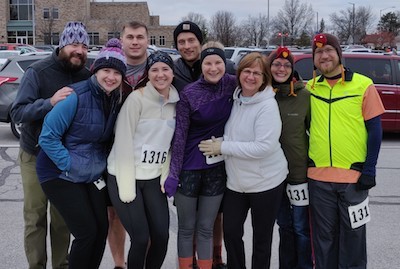 We didn't have any full out runners from our family this year. Usually my eldest is in the top 200 finishers of the almost 2000 people participating. This year he and his wife decided to power walk together as she had back surgery and was just not up to running. Our fastest time was Nathan (middle of the photo in black hat) at 9 minutes 39 seconds per mile. My DIL and I walked in at 19 minutes 16 seconds per mile – 2 minutes slower than last year. There is always next year to make improvements.
Here's the snowman mug rug I put together and mailed to my SIL.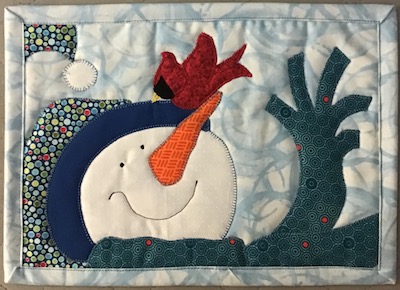 This was a kit from a LQS. The pattern is by Quilt Doodle Designs. Finishes at 7 1/2″ x 10 1/2″
I am playing along with Helen Godden and her Christmas Countdown Quilt-A-Long.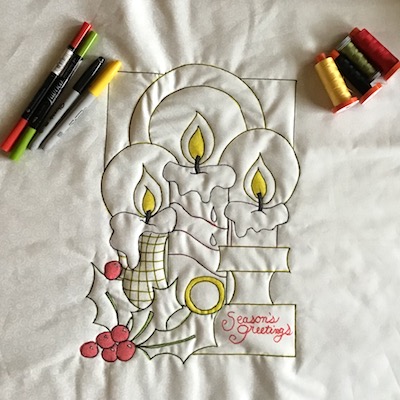 Each day we will add a little FMQ to the design.
Last To Do List:
Thanksgiving baking, cooking! ✔️
Enjoying Thanksgiving with family and friends. ✔️
Make and mail a little snowman mug rug for my SIL. ✔️ Mailed yesterday!
Any quilting or piecing I might find time for this Thanksgiving week ✔️ Prepped for Helen Godden's quilt-a-long
To-Do List:
Continue stitching up Bat Moon Rising
Make a few quilted gifts for my quilting friends.
Keep up with Helen's quilt-a-long
Linking to To-Do-Tuesday.