It's the most wonderful time of the year! With celebrating our Savior's birth comes time with family and friends. Part of the celebrating brings gift giving. Today I'll be meeting with friends and I made each a little giftie.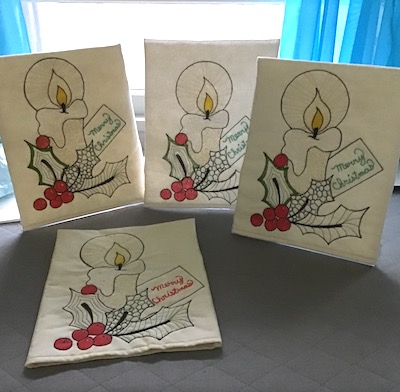 I traced and slightly altered one of the candles from Helen Godden's free Christmas Countdown Quilt-A-Long. I made a pillow-like-case and slipped it over an acrylic photo frame.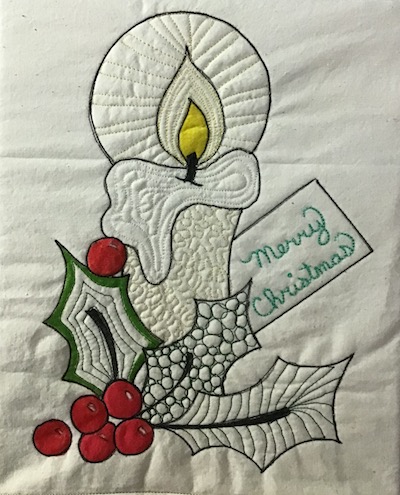 I used Sharpie and Fabrico pens for coloring and outlining. Auriful and Mettler threads for the FMQ. Merry Christmas is hand embroidered  with Auriful thread. The finished quilt is 8 1/4″ wide by 10″ tall. I have three more to do the hand embroidery on before stitching them to slip over a picture frame.
That's it for this week. I caught a bug – going around my family – and spent a couple days in bed. Not how I wanted to spend my time, but I'm glad to be over it! Hope it stops with me, sparing everyone else.
Hope you are all staying happy and healthy!
Last To Do List:
Continue stitching up Bat Moon Rising ✗  Illness struck, and most quilting stopped for a few days.
Make a few quilted gifts for my quilting friends. ✔️ 4 complete, and 3 to finish up.
Keep up with Helen's quilt-a-long ✔️So far so good!
To-Do List:
Make lap quilt for my Dad from his neckties. Mail by the 16th!
Finish up the 3 gifts for my quilting friends.
Dream about making some Christmas stockings.
Bat Moon Rising – probably not. Putting on back burner until holiday prep is complete.
Linking to To-Do Tuesday hosted by Sewn by Us.