I'm checking things off the Christmas To-Do List!
This past week I focused on making a quilt for my Dad using his discarded neckties.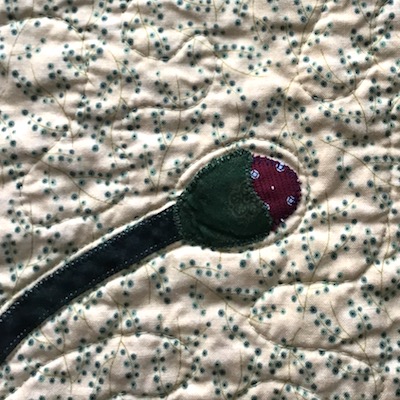 Above is a little bud using a tiny bit of one of Dad's ties.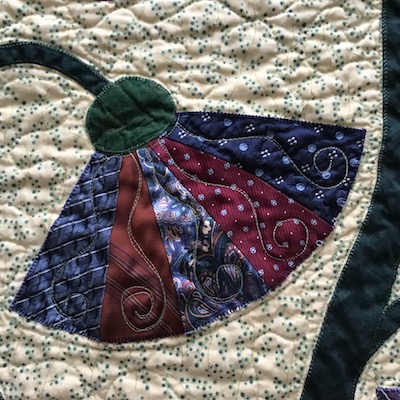 This photo shows a flower made from ties and the quilting.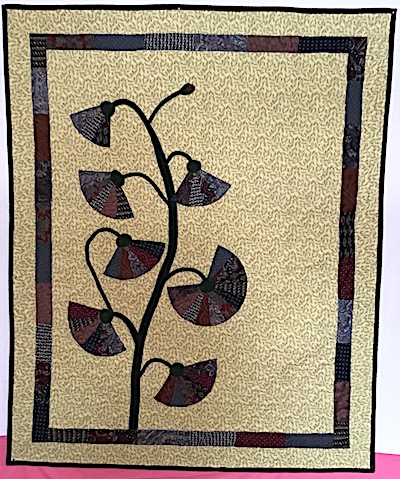 And here is the lap size quilt, finished at 47″ x 56″. The background is meandered. The vine is echoed, and little curlicues are quilted on each of the flower petals. Warm N Natural Batting, Superior and Auriful threads. Dad moved into assisted living last year and said he no longer wanted his neck ties. I talked him into selecting 2 of his favorite ties to keep, just incase he ever wanted to dress up. Then I suggested using the rest of his ties for a quilt. He liked that idea. I hope he likes what I did with the ties! I shipped the quilt to him yesterday. His birthday is later this week, perfect timing to complete & ship the quilt!
I have four more little quilties ready for gift giving. One will be gifted Christmas day, and the other three are for my Curvy Quilters group. We are meeting Thursday, so again, phew! I'm glad to finish them up in time to gift.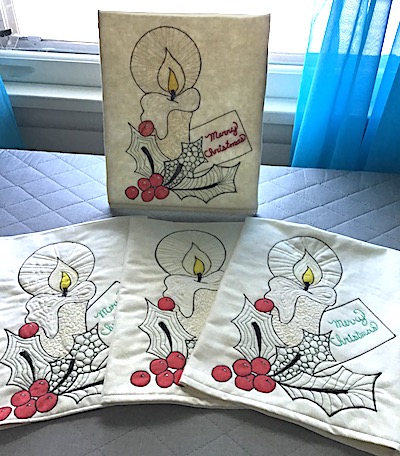 The design is adapted from Helen Godden's free Christmas Countdown Quilt-A-Long.
My December One Monthly Goal is to keep up with Helen's Quilt-A-Long.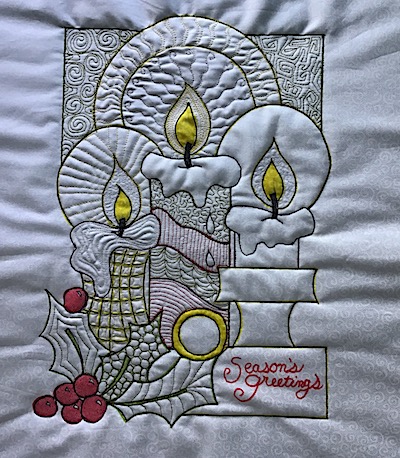 At day 17, it's looking pretty good, and I've kept up with the daily design. Phew!
This week I hope to start on a few Christmas Stockings. I've a few appliqué ideas. I need to dig through fabric and see if I have nice back ground fabrics.  Procrastination? Maybe. I want to make 4 stockings that show each person's interests. Maybe I'm making it too hard on myself, and should just go with a Christmas theme.
What are you up to the week before Christmas?
Last To Do List:
Make lap quilt for my Dad from his neckties. Mail by the 16th!  ✔️ Made, photoed, and mailed!
Finish up the 3 gifts for my quilting friends.  ✔️ Phew! All done and ready to gift Thursday and Christmas day.
Dream about making some Christmas stockings.  ✔️ I did a little checking around on the web, looking for ideas.
Bat Moon Rising – probably not. Putting on back burner until holiday prep is complete.  ✗
To Do List:
Host quilting group Thursday.
Start on Christmas stockings.
Linking to To-Do Tuesday Hosted by Home Sewn by Us.